In the hustle-bustle of every day when it becomes hard to draw some time out for hitting the gym, doing simple yoga postures in the home seems good enough. While yoga is in trend these days, the market is flooded with a number of accessories which prove to be really helpful while performing it. Yoga wheels fall into the same category and have become a must-have product for the yoga enthusiast. Here we have tried to enlist the top ten best yoga wheels of the year that have helped people to get some extra fun while doing their yoga 'asanas'. Check them out! Skip to the Best Yoga Wheel on Amazon.
If you are also looking for yoga ball chair, check this for the best choices!
List of Top 10 Best Yoga Wheels in 2020
10. Risefit Yoga Wheel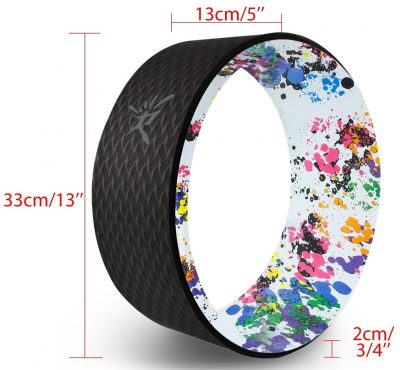 The yoga wheels from Risefit have the ability to support 1000 lbs making them perfect for people with the heavyweight. Being durable and long lasting one can use them without any fear of wear and tear for a long period of time. The inner ABS tubes make the wheels strong and supportive providing enough safety for the person performing yoga through it. It elevates the flexibility and body strength as it helps in stretching and performing almost every kind of yoga postures with it. Coming with 3 years warranty the yoga wheels from Risefit could be your ultimate choice.
9. Yoga Wheel Basic 12″ by Seigla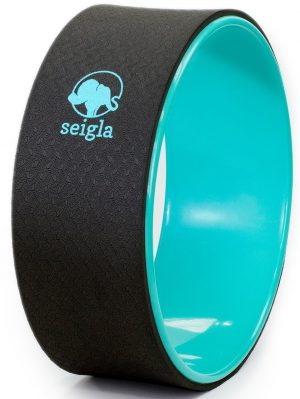 Seigla utilizes TPE foam while manufacturing the yoga wheels and thus they provide exquisite comfort and ease while performing different yoga postures. The material being anti-microbial, rule out the chances of getting any sort of bacterial or fungal growth in it. These wheels are made to last long and that is why apart from comfortable and reliable, a light-weighted yet sturdy material is used in its manufacturing. It supports up to 500 lbs and can handle any yoga posture with utmost ease. Coming with 60 days money back guarantee, Seigla Yoga Wheels could be one possible choice out of many.
8. Clever Yoga Wheel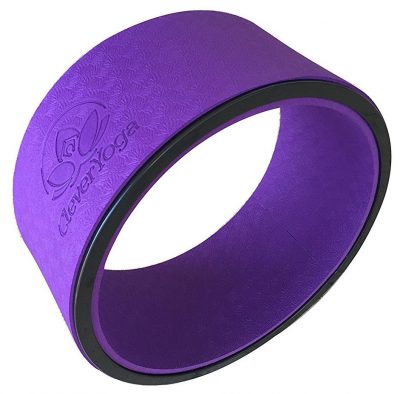 When a yoga wheel commits in providing utmost safety for the users while performing yoga it drew all the attention. The thick padding on both the sides of the sturdy frame of Clever yoga wheels ensures a safe yoga practice. The additional feature of these wheels is they have a wider frame of 5.8" as compared to 5.0" of others making it more comfortable for the users. Once you order the product you would get a step by step pose guide showcasing how to use the yoga wheel to increase your strength and stamina along with flexibility. It comes with a lifetime warranty as well.
7. GreEco Yoga Wheel Pilates Roller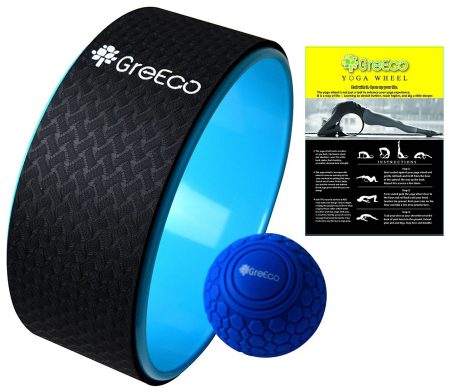 Another great yoga wheel on the list is from GreEco. Being made from TPE material it provides great padded cushion and a non-slippery surface so that every yoga 'reason' can be performed with ease and comfort. The material used in manufacturing is highly sturdy and durable. It retains its shape for a long time even after rigorous use. It helps in stretching and making yoga postures a little larger than the other yoga wheels. Non-slip designing and use of high-density EVA foam make it one of the best options to splurge upon.
6. Plexus Yoga Wheel
The yoga wheels from Plexus not just provide a convenient approach for a number of yoga postures but also contribute to a stylish look among your yoga accessories. The perfect sizing and portable design of the yoga wheels provide great comfort while doing even the hardcore yoga postures. One can add to the strength and flexibility of the body with the help of Plexus yoga wheels. The soft texture matting along with PVC pipe framework gives ease while performing the daily yoga 'asanas'. Coming with 100% money back guarantee, it is a product worth having if you love doing yoga for maintaining the fitness regimen.
5. ProSource Yoga Wheel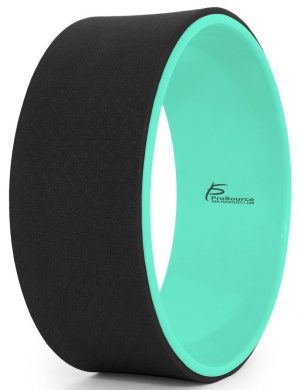 The yoga wheels from ProSource are designed in such a way that they help to release the tight and stressed muscles in order to improve the overall flexibility of the body. They provide great comfort while performing backbend and other challenging moves and this is the reason by it is most common among the yoga enthusiast. The 1/4 inch cushioning endows comfortable support while doing yoga 'asanas'. The strong interior gives the ProSource Yoga Wheel extra durability and sturdiness. Since these yoga wheels come with a lifetime warranty, one can have them without any dilemma.
4. JBM International Yoga Wheel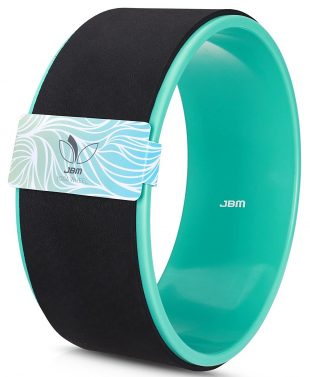 The yoga wheels from JBM not just helps in providing perfect postures due to their high-quality TPE padding, they also ensure utmost safety and protection while performing them. Whether you are a beginner or at an advanced level, the yoga wheels from JBM could be your one-stop destination while searching a perfect yoga wheel for yourself. It can hold up to 400 lbs of weight. The materials used while its manufacturing is durable and long lasting as well. Being light weighted it can be ported anywhere from yoga class to open terrace. It is sweat resistant and eco-friendly and comes with 1 year of warranty making it one perfect choice to splurge upon.
3. Freory – Cork Yoga Wheel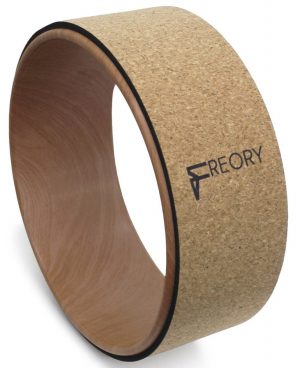 The yoga wheels from Freory has got cork exterior and thick padding interior making them one excellent product for the Yoga fanatics. TPE foam padding not just provides extra comfort to the user but also make it eco-friendly. Almost every yoga pose can be performed with ease with the yoga wheels from Freory and this is the reason why it has gained so much popularity among the people. The heavy-duty ABS plastic is used while manufacturing giving it a durable and sturdy frame. It can bear up to 500 lbs weight. Since the main motto of Freory is the customer's satisfaction, the product comes with 100% risk-free purchase.
2. Mindful Yoga Wheels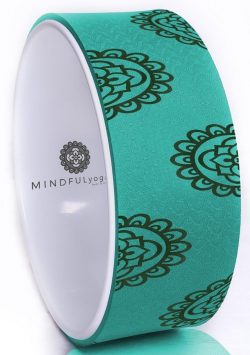 Mindful yoga wheels have managed to attain a lot of attraction for it being highly sturdy, light weighted and durable. The more a person performs yoga with it the more he will find it comfortable. With the 12 inch diameter and 5 inches width, it can support up to 500 lbs weight. The TPE cushion padding endows extra comfort while performing the difficult yoga poses. The great design and easy usage make it one of the best among many other yoga wheels in today's date.
1. UPCIRCLESEVEN Yoga Wheel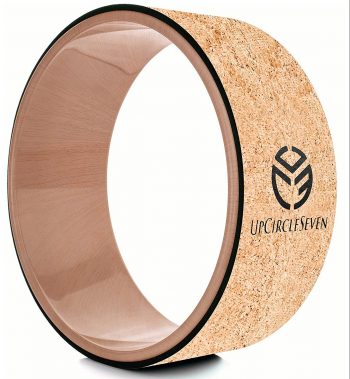 The yoga wheels from UPCIRCLESEVEN are yet another great piece to ponder upon. They are considered as the best back opener as they provide full stretching with maximum ease. Providing utmost comfort while performing yoga because of their thick padding, they have the power to bear as heavy as 550 lbs weight easily. The thick padding makes them sweat resistant and provides an environment free of musky perspiration scents which are usual while performing yoga. When such an incredible product comes with 100% quality promise the urge to use it comes within.
8 Brilliant Ways to Use a Yoga Wheel to Boost Your Practice
Related Buyer's Guide Lists:
Top 10 Best Yoga Swings in 2020
Top 10 Best Yoga Bolsters in 2020
How to Use Yoga Wheel