Camping cot has proved quite a perfect companion for the one who loves to travel outdoors, camping, exploring and scouting for several nights as these cots are the potential sleeping system to give you feel like you are sleeping in your bed. There are thousands of camping cot out there and all of them are of different types and configuration. Check out the list prepared after plenty of research and reviewing customer experience and find your perfect camping cots.
10 Best Camping Cots Reviews
10. Teton Sports Outfitter XXL Camp Cot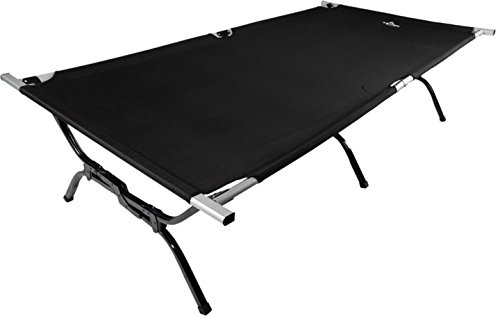 One of the largest outdoor sleeping system ever designed and manufactured by Tenton sports that can withstand the heaviest weight up to 600lbs thanks to its patented S-leg assembly and aluminum steel. The bed surface is made of extra-large 600D oxford canvas and heavy duty durable material to take you for trip time and again.
Product details:
Brand: Teton Sports
Dimensions: 74″ x 28″ x 15″ when opened and 37″ x 6″ x 3″ when folded
Weight: 26 pounds
Color: Brown
Amazon ratings: 4.3/5
Overview:
 Only requires one person to set up;
 Easily folds up when finished using it
 Lifetime warranty
9. Vivo V01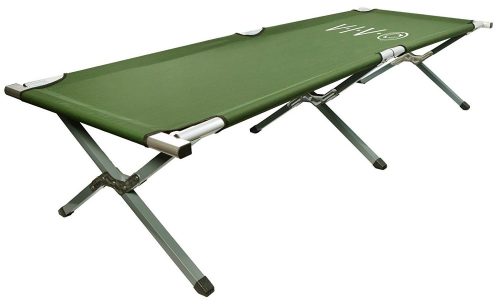 The green military styled foldable bed is quite suitable for all of your indoor and outdoor activity. It has an aluminum frame and 4-legged steel structure make it even sturdy while the cot is water resisted and made of 600 denier polyester. It can hold up to 250lbs make it the perfect companion for an individual traveler, scout, camper and an explorer. Moreover, it includes sturdy carrying bag with shoulder strap along with the instructional manual.
Product details:
Brand: Vivo
Dimensions: 37.6 x 8 x 4.3 inches
Weight: 12.2 pounds
Amazon ratings: 4/5
8. Coleman Comfort Smart Cot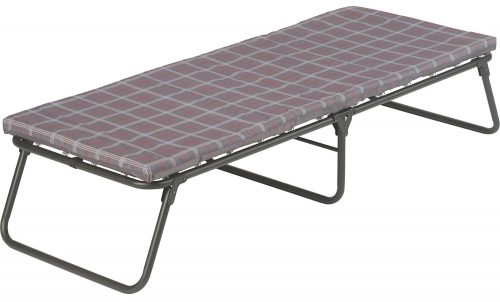 Coleman has been around for the generation and quite popular for their product for indoor and outdoor activity. The Coleman comfort smart cot is durable, affordable and comfortable. With its three-legged spring suspension system and thick, foam mattress make it perfect accouterment to sleep outdoors when camping, exploring and scouting.
Product details:
Brand: Coleman
Dimensions: Unfolded dimensions 69" x 29" x 15" and Folded dimensions 34.3" x 25.4" x 5.5"
Weight: 14lbs
Weight carrying capacity: 275lbs
Fits heights up to 5' 7"
1-year limited warranty
Spring coil suspension for comfort
Amazon ratings: 4.5/5
7. Mountain Trails Base Camp

Quite similar to Vivo V01 but with slightly lower weight carrying capacity of 225lbs. Otherwise, the four-legs of steel and aluminum frame along with the 600d polyester core elements of this camping cot. Moreover, it also comes with carrying bag and folds in seconds making it quite easy to carry anywhere as it is lightweight as well. Though according to users it is not easy to assemble.
Product details:
Brand: mountain trails
Dimensions: 30.3″ Wide X 6.7″ High
Weight: 9.8 pounds
Weight tolerance capacity: 225lbs
Amazon ratings: 4.1/5
6. Coleman Pack-Away Cot with Side Table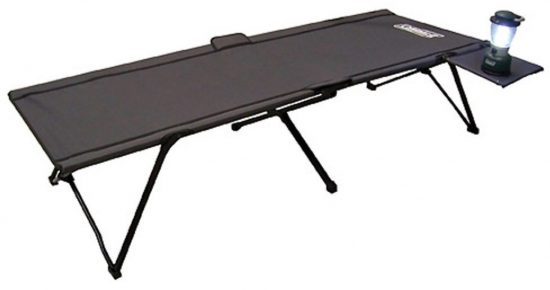 Another cot from Coleman for the outdoor activity that comes with few other handy features which include removable side table and cup holder along with quite good portability. The camping cot is quite expensive but well-built, lightweight, durable and suitable for the one who loves camping outdoor but hates to sleep on the ground.
Product details:
Brand: Coleman
Dimensions: Unfolded dimensions – 80" x 32" x 17" and Folded dimensions 39.5" x 11 x 10;
Weight: 14lbs
Weight tolerance capacity: 300lbs
1-year limited warranty
Removable side table with cup holder
Amazon ratings: 4.3/5
5. Byer of Maine Easy Cot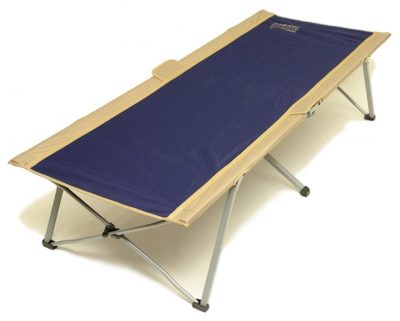 One of the most appreciated and well-reviewed camping cot by Byer. The byer of Maine easy cot is structured of steel legged and aluminum frame along with 600D polyester but the structural design is quite different that makes it capable to carry almost 325lbs without fail. Moreover, it is quite long compared to other cot and easy to assemble as well.
Product details:
Brand: Byer
Dimensions: 78″L X 31″W X 18"H
Weight: 22 pounds
Weight carrying tolerance: 325lbs
Amazon ratings: 4.7/5
4. Coleman Queen Airbed Cot with Side Tables and 4D Battery Pump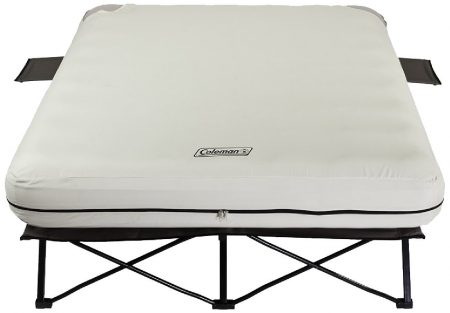 Coleman has just created the world's most luxurious outdoor cot to give you feeling of the five-star hotel when camping outside. It comes with large size air mattress which can be filled with the air with the help of air pump which is also included in the pack along with 4 D-sized batteries to power the pump. Moreover, it can also carry weight up to 600lbs which is plus points compared to other cots. It features carry bag as well and it is compact enough that you can house it in your car trunk. It scored 4th on our list it's because it will cost you hefty.
Product details:
Brand: Coleman
Dimensions: Unfolded dimensions: 78" x 22 x 59"
Weight: 40.2lbs
Weight carrying capacity: 600lbs
Queen-sized air mattress;
Air powered pump to pump the mattress
Include air pump with 4 D-sized batteries
Compact folds up to fit inside most car trunks
Amazon ratings: 4.5/5
3. Kamp-Rite Oversize Kwik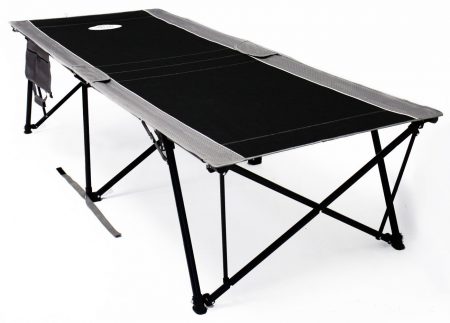 As the name implies it is XXL camping cot that comes with an economical price and durable, portable, easy to fold and lightweight structure. It can house two adults and hold up to 350lbs of weight.
Product details:
Brand: Kamp-rite
Dimensions: Folded: 41″L x 7″W x 8″H and unfolded: 84″L x 33″W x 22″H
Weight: 23lbs
Weight carrying capacity: 350lbs
Amazon ratings: 4.4/5
2. Helinox High Cot

One of the strongest and sturdy camping cot till now. It has six legs made of high tensile steel and durable frame of quality aluminum while the surface material is the 600D polyester same as most of the camping cots. It includes storage bag with zipper.
Product details:
Brand: Helinox
Dimensions: 27 x 9 x 6 inches
Weight: 7 pounds
Weight carrying capacity: 319.7lbs
Amazon ratings: 4.5/5
1. Disc-O-Bed Bunk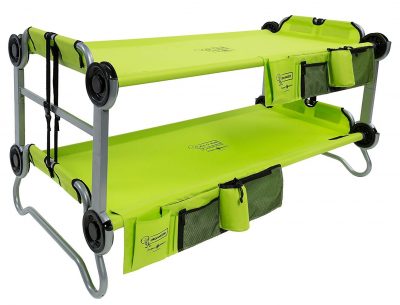 After the Coleman's Queen Airbed Cot, Disc-O-Bed is the second camping cot that carries weight more than 500lbs. its double-decker style brings you and your partner closer while saving the space and it can also be converted into the couch when not used as the sleeping system. The structural material is quite same but it is still durable and long lasting.
Product details:
Brand: Disc-O-Bed
Dimensions: 34 x 16 x 11 inches
Weight: 64 pounds
Weight tolerance capacity: 500lbs
Amazon ratings: 4.7/5
Hope this list of camping cot will help you to find out the best and suitable cot as per your requirements. There are plenty of other cots out there but make sure you check this list out first. Make sure you let us know your favorite one.