The season of festivities is here. And it is time to dress up in your Christmas gear and enjoy the season. Most importantly, you need to decorate your house aptly to give out the Christmas vibes to your family and friends. While you can go for the string lights to decorate your house, the tangling of cords can create problems. Thus, opting for the Christmas projectors is always a better option. With a plethora of slides and functionalities, these projectors set the right mood for the festivals.
In the list below, we are listing ten best Christmas projectors for you to choose from. Have a look at our list and choose the best one for yourself.
The Best Christmas Projectors – A Complete Guide:
10. Fitfirst Christmas Decoration Projector Light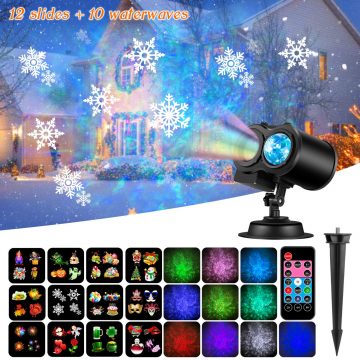 What better way to celebrate the day than with some mesmerizing light effects. This projector caters to both your outdoor and indoor needs. You have an array of options to select from when it comes to choosing exactly what type of projection you desire. Not only are the effects extremely pretty, but the projector itself is very functional.
The projector can rotate 180-degrees completely to be able to easily project in any direction as you prefer without the installation hassle.
Key Features:
The projector light is able to easily attach to any surface. It has both the ground mound, for outdoor purposes, and the surface mound for attaching it anywhere indoors.
As many as 10 different wave colors are available for you to choose from. Each shade is attractive and gives you a festive feeling.
It has a 16ft long reach that covers a lot of space.
9. ENJOY PET Ocean Wave Projector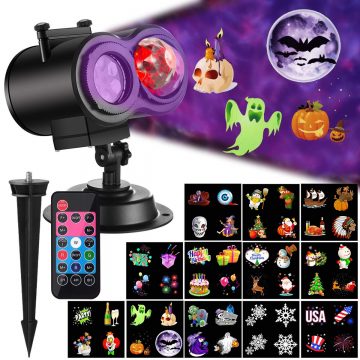 Buy this for Christmas, and use it for Halloween as well. It will provide you with enough variations to use through the festivals. This projector comes with 12 different slides. These slides have a very wide range of images which you can use during projection. Starting from the winter snowflakes to the warm gift boxes, it goes on to provide versatile variations as ghosts and carved pumpkins.
Thus, buying it for one purpose will serve you for all. Besides, the patterns in the slides are not only different but also extremely vibrant.
Key Features:
With Christmas comes to snow, which may spoil the beautiful projections you have in mind. This projector can brave both snow and rain and work efficiently for a long time.
Comes with a support frame in order to provide added aid to the projector.
Offers an effective remote controller.
8. Samyoung Water Wave Christmas Projector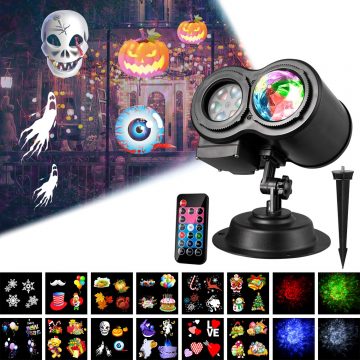 The crystal clear projections that you can create with this projector are sure to win your heart. The efficiency of this projector is on point. The remote control that comes with the projector, can conduct signals to it from as far as 12 meters of a difference. As an extra advantage, the product offers IP65assurance.
This means that the Christmas projector is absolutely waterproof and will continue to perform for a long time without any glitches. Even heavy rain cannot inhibit the work of this projector.
Key Features:
The shell is completely out of ABS plastic. Needless to say, it is not only extremely durable but also water-resistant.
The product has gone through various tests and certifications before coming to you. Quality is not even a concern since it offers UL, FDA, ROHS, FCC, CE, and even IP65 certification.
Completely easy to install even if you are using daily.
7. Lighting Store Diret Projector Light
For the ones who care about the safety of your child while looking for some decorations, you can surely go for this. The warm LED lights are not harsh at all. They are safe and soft on your eyes, and even for your children. You can easily use this as a pretty night light for your toddlers. The lights provide you with a plethora of variations catering to all your needs.
Offering up to 16 different patterns, this serves a purpose throughout the seasons. Whether it is a birthday, Christmas or Independence Day, the range has an array of different and relatable patterns.
Key Features:
A very thoughtful user manual comes with the package in order to walk you through each step of the process of installation. Thus, you do not need any professional help.
The installation process is extremely easy since it is a two-mode process. A round base for mounding to the surface, and a spike for mounding into the ground.
Comes with IP65 certification that guarantees its durability.
6. Yinuo Mirror Christmas Projector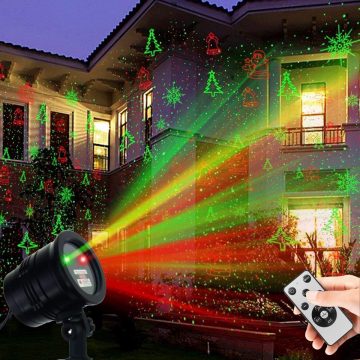 Welcome the holiday spirit this Christmas with this Christmas laser light. The effect that these lights will have on your garden, or living room, is as magical as fairy dust. With 5 luminous lighting patterns, the lights spread throughout and become an immediate mood lifter during the holidays.
The projector having aluminum as it's material proves to be extremely long-lasting. Also, it easily dissipates heat, avoiding any overheating of the device. The projection can spread throughout an area of 3800 square feet.
Key Features:
The laser lights have a very large area of coverage.
Not only can it operate from a wide distance of 25 feet but it can set into three different patterns of twinkle, flashing or just stationary.
Has a 300-degree adjustable projector head.
5. ALOVECO Christmas Projector Light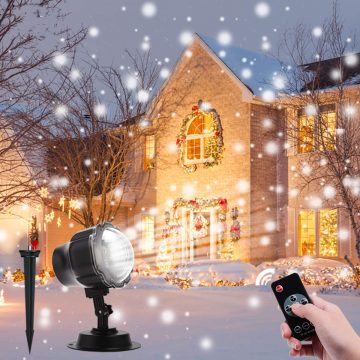 How can it be a holiday without some snow? Instead of having a disappointing Christmas, bring the experience to your garden, or front yard. With the help of this Christmas projector, it will always snow with the Christmas spirit outside your windows. Having an IP65 degree, it is not only waterproof.
Instead, it is dust-tight, and since the entire system is absolutely sealed, no outer agents can damage the machine in any way. The projector easily braves through the hot sun, or the windy weather, without compromising at all on the performance.
Key Features:
Since it's the cable is as long as 5 full meters, it easily caters to your distance constraints. You just need to plug it to operate it.
You get to choose your own speed with this projector. It contains 4 different speed levels to suit your choice.
Features a multifunctional remote controller that eases the process.
4. 1byone Christmas Outdoor Laser Light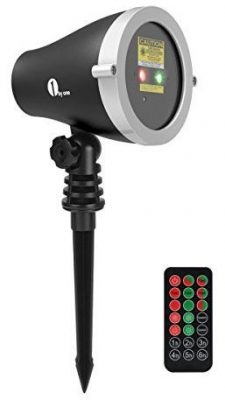 If you are fed up with the hassle of the string lights, go for this easy and much better laser light. All the trouble of tangling of wires and sudden glitches ruin your festive mood. And that is why now you can have it without the hassle of wires. If illuminating your house is what you are looking for, then this certainly does the job for you perfectly.
The incredible green and red lights dotting your garden or house, or even an indoor party let you travel to a magical world in an instant.
Key Features:
More than often, even if everything is taken care of, the glass remains a concern. Well, 1byone uses high-quality tempered glass to provide you with the best of what they can offer.
Not only does it have a remote control to try out various forms, but even the batteries come with the package. Therefore, you can use it right out of the box.
Covers an area of 2100 square feet, as a result, the light will lit up the whole place.
3. Star Shower Slide Show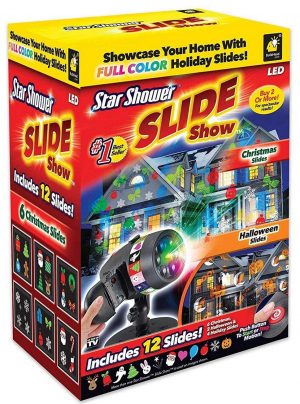 Most of the people refrain from buying projectors just because it will be gathering dust for the rest of the year. Well, Star Shower Slide Show offers more versatile patterns which you can use throughout the year. In order to suit your mood and the event, it has a wide range. Starting from warm hearts for the Valentine's Day, to the fireworks slide, it has as many as 12 different slides. Therefore, perfectly suiting on various occasions.
Moreover, inserting each slide is very easy on this device, and absolutely hassle-free.
Key Features:
The lawn stake that comes in the package is much longer than the traditional ones. Thus, offers a sufficient grip on the ground.
With the press of only a button, you can choose three different speed patterns from fast, slow and static to suit your needs.
Has a weather-resistant housing that will easily battle all the adversities of nature.
2. M SANMERSEN Christmas Projector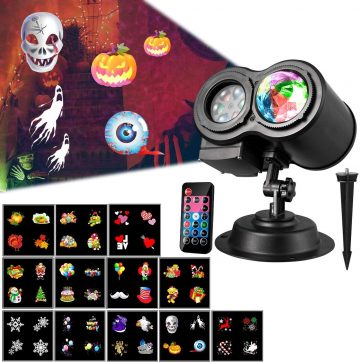 How horrible is it when your Projector stops working because of the freezing temperature. Well, this projector from M SANMERSEN comes with an automatic heating system. This helps to keep the projector running even in a very harsh climate. Moreover, having the approval of both CE and ROHS only tells you of their premium quality. The product is sturdy and extremely long-lasting. The projector also has a 2 in 1 projection system, which allows you to use pattern slide and wave colors at the same time.
Most importantly, the product also comes with a user-friendly manual. This manual explains in very easy steps, how to install the projector without any trouble.
Key Features:
Since the projector is of the top-notch quality, it projects the LED beads without any radiation whatsoever. The natural light is comfortable on the eyes.
With various features, the remote control has a particularly unique feature.
You can also set a timer to choose when and how long you want your projector to work.
1.Minetom Christmas Snowfall Projector Lights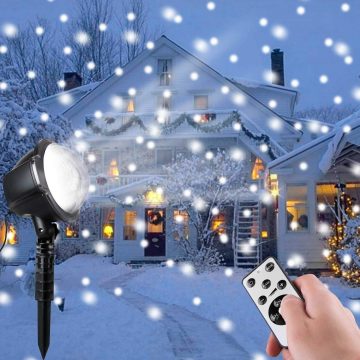 A simple projector can decorate your entire house for you. With this projector, you can have some snowfall anytime for you or your children. A must for bringing the holiday spirit, this projector is very easy to install. The installation process will make you reject the string lights from every year.
Furthermore, since the material used for the projector is ABS plastic, it proves to be extremely sturdy. As an extra advantage, the plastic ensures the projector is absolutely waterproof.
Key Features:
Has a 180-degree rotational head. This helps you to project the snow on any side you prefer without major installation changes every single time.
It has a multifunctional remote which allows you to change the speed as well as assign time to the projector.
Decorate your home with the most glorious Christmas lights. The Christmas projectors look enticing and will give a festive look to your home.