Bored by the messy and irritating work of greasing? In industries and our daily projects, machines need to be greased very often to keep them working. Not only mobiles and buildings but even our tools are also getting smarter day by day with upcoming technology. Manufacturers are selecting the latest features and adding them to the grease guns. Due to the new multiple features, greasing has become an easy task to do.
Given below is the overall list of the top 10 Best Cordless and Electric Grease Guns. These new feature grease guns will help you to do your work in a few minutes. All under-listed cordless and electric grease guns are unique in their way. One may have the feature of good batteries, and others may have excellent durability. You just need to pick up your pen and paper and start comparing it as you go through the article. Let's gear up to find the best one for you.
Best Cordless and Electric Grease Guns in 2023
10. Performance Tool W50014 14.4 V Cordless Electric Grease Gun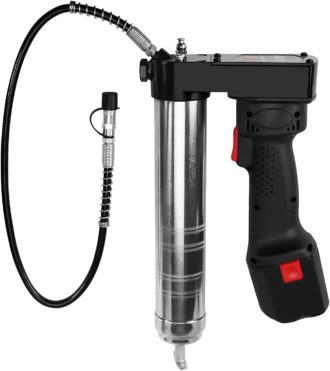 This cordless grease gun is available in two voltages, and the maximum pressure it can bear is 7000 PSI. It has a balanced design that is comfortable to hold. A distinctive feature of this gun is- it makes the hard-to-reach fittings accessible to service. Hence, all process seems effortless.
The battery is 1500 mAh power and gets charged within 1 hour. It is a handy tool. A manual followed by instructions is given with the gun. You can go through the steps and have access to this grease gun.
Pros       
Good quality material used
Semi-automatic gun
Heavy-duty coupler
Charge quickly
Cons
Makes a hissing sound when in use
A bit hard to prime
9. ALEMITE 596-B1 20 V Lithium-Ion 2-Speed Cordless Grease Gun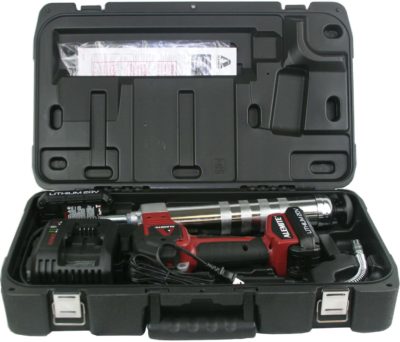 ALEMITE offers this gun in the form of a kit along with an LCD. This LCD is multi-functional as it covers up the real-time information about meter gauge, grease meter, and battery capacity gauge. As clear from the name, it works with two speeds. One is 6 oz per minute, and the other is 4 oz per minute.
For charging grease guns, batteries need to be mainly looked after. In this case, you need not worry about the batteries. They are made up of lithium-ion. The maximum pressure that it can exert is 10,000 PSI. It works basically for petroleum greases. The grease cylinder of this gun has a capacity of 16 ounces. The kit of this gun covers; a battery charger, two batteries, a greased couple, and a whip hose.
Pros
A kit with all the necessary tools
Prime fast
Batteries last longer
Offers two different flow rates
Cons
The charger doesn't work so well
8. INGERSOLL RAND LUB5130 20 V Lithium-Ion Cordless Grease Gun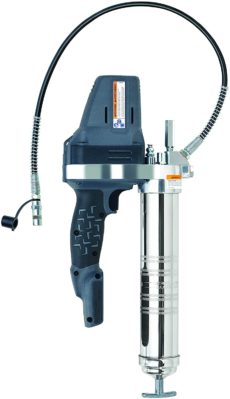 It is a fantastic grease gun that gets your more work done in lesser time. The reason behind its proper working is its operating pressure and a powerful motor. Lithium-ion batteries keep it working for a long. The ergonomic handle of this gun makes it lightweight and reduces vibration when in use. You can even shoulder strap the hook for greater comfort.
A high-power motor makes it highly durable. Also, it is the latest invention of the IQV20 cordless tools series. You need to charge it once and then use it for a longer time duration. It primes fast and with good quality grease, there is no problem with air leakage also.
Pros
Powerful batteries
Easy to handle
Excellent working condition
Among the latest invention tools
No leakage
Cons 
7. RYOBI 18 V Cordless Grease Gun P3410

P3410 grease gun exerts the pressure of 10,000 PSI. For maximum output, its flow rate is 7.5 oz per minute. Just to extend the durability of the cordless gun, steel material is used in its construction. The shining feature of this gun is that it is the world's most extensive tool system of 18 V. The flexible hose of 30 inches helps to reach even the tight-fitting areas.
LED light on the gun makes it easy to use even in dark places. You can even know the leftover grease in the gun with plunger rod markings. The air bleeder valve reduces air pockets as it quickly primes the pump, and there is no risk of leakage. This gun saves you from creating a mess with its lock on and off trigger. It can pump 19 grease cartridges per charge.
Pros
Multiple features
Lock-on and lock-off trigger
Plunger rod markings
18 V- world's most significant tool
Neat set up
Cons
Pumps out the grease at a fast rate
6. LUMAX LX-1175 Handy LUBER 12 V Single Battery Grease Gun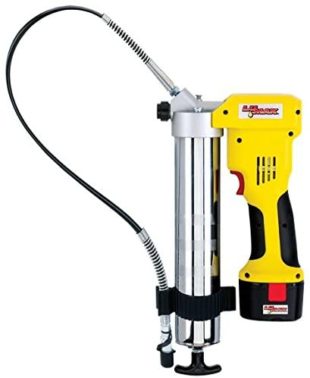 LUMAX cordless grease gun fills up to 5 cartridges of grease after a fully charged battery. The flow rate of this gun is high, which is 3.5 oz per minute. For protecting the gun from corrosion, the body is chrome plated. It is easy to handle, light in weight, non-slippery, and has long-lasting construction. For hard-to-reach fittings, you can make the best use of them. LX-1175 works with a single battery and charges within 1 hour.
The model of this gun also includes a carrying case, which is a compact slimline. Just to prevent the dripping of grease, there is a non-drip cap and an ultra-flex hose along with spring guards. The maximum operating pressure of the gun is 7000 PSI with an in-built pressure relief valve.
Pros
Chrome-plated body
Couple and hose holder
1500 mAh battery
Ergonomic handle
Cons
Not fit for long term use
Very noisy
5. Bare – Tool MILWAUKEE 2446-20 M12 12 V Grease Gun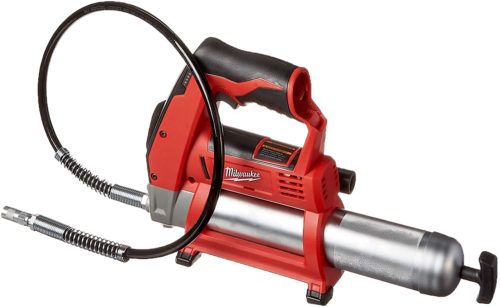 The product includes a 2446-20 grease gun, grease coupler, and 36" flex hose with a spring guard. It has integrated hose storage. Once fully charged, it can fill up to 7 cartridges. This bare tool is highly durable and easy to use. You can easily balance it while doing the messy work of greasing because of the 14" long superior handle.
The priming mechanism of the gun works well for quick flow. This product is made in china. LED fuel gauge is inserted in the gun. It can even handle overload and has protection for it in the gun. The pressure capacity of this cordless gun is 8000 PSI. The point to be noted for this grease gun is that- you need to buy a battery and charger separately when you opt for it.
Pros
Shoulder strap loop
Easy to overfill
Soft and smooth start
Easy to clean
Cons
Charger and battery not available with the gun
The problem faced loading the carriage
4. LINCOLN Industrial 18 V Battery Operated Grease Gun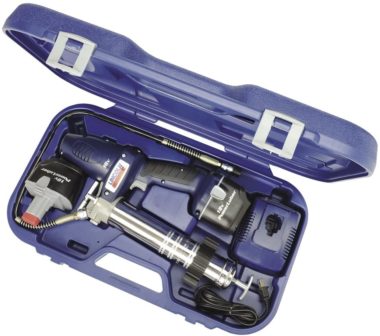 Lincoln grease gun with dual battery dispenses ten grease cartridges per charge. Isn't it incredible? For higher output, it works with two speeds. The construction of the body of the gun is made of superior quality material, which has high tensile strength. 18 V battery-operated gun lasts 30% longer for each charge.
You can easily handle the weight of the gun as the casting on the gun provides excellent durability. It can also be overloaded without leakage due to the dual overload protection system in the gun. This gun works with a high-torque motor and provides an outstanding performance. The working pressure of the gun is 7500 PSI.
Pros
Available in the form of a handy kit
Dual speed transmission
Overload protection
Grease flows at a fast rate
Cons   
Batteries not good
Useful for a short duration of time
3. Workforce Mega Power 12 V Battery Operated Grease Gun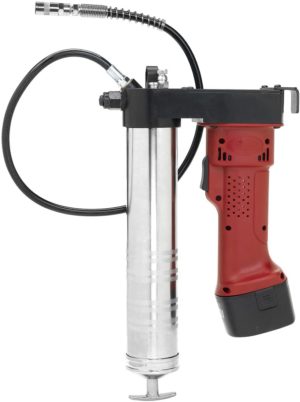 This grease gun is highly durable because of its heavy-duty die-cast head construction. For its ever-lasting protection, it comes with a rugged carrying case. Its body is made up of steel to make it suitable for long-term use. The motor power of this cordless grease gun is also kind of 12 V, as it has a planetary gear drive.
You can work with it at an output pressure of 6000 PSI. It gets charged within 1 hour and can hold 14 oz grease cartridges at a time. Two 12 V batteries make it working in good condition. For extra portability, there is a shoulder strap attached to the gun.
Pros
Outstanding durability
Works great
Nice motor power
30" flexible extension
Cons
Not fit for thin greases
Assembling is a bit complicated
2. MILWAUKEE 2646-22CT M18 18 V 2-Speed Grease Gun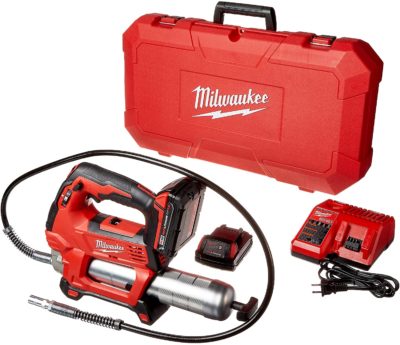 This multi-feature grease gun delivers 10,000 PSI pressure. It has an integrated priming lock mechanism for a fast rate. With its leading flow rate of 10 oz per minute, it can fill up to 10 cartridges per charge. Its pre-set grease counter makes it new in the leading technology.
MILWAUKEE has a 48" flexible hose. The kit of this cordless gun includes – shoulder strap, carrying case, and compact battery of REDLITHIUM, 48" hose with a spring guard, a multi-voltage charger, and grease coupler of high pressure. Batteries made of lithium-ion are long-lasting. You can operate it at two speeds, whether high or slow, depending on the rate at which you want to make your grease flow.
Pros
Multiple features
Maximum flow rate
Easy to assemble
Shoulder strap and grease coupler
Cons
Expensive
Batteries are undersized
1. DEWALT Max Cordless Grease Gun 20 V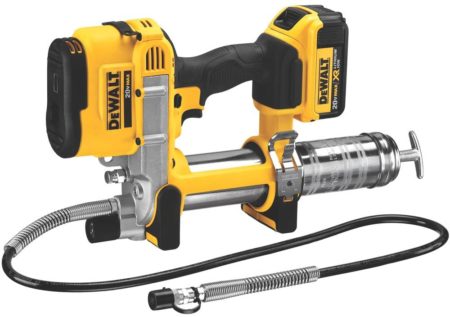 DEWALT grease gun has an outstanding work pressure of 10,000 PSI due to its powerful motor. It pushes up to 5 oz cartridges per minute and delivers 16 cartridges per charge. You can even reach smaller fittings with its 42" extra-long hose.
Sometimes the pump mechanism of the grease guns fails, and it gets destroyed. But with this, you get an integrated innovative pump filter screen that keeps away the dirt and contaminants and prevents the clogging of the pump. The LED light on the gun enhances visibility in dark places. A fast charger, shoulder strap, lithium-ion battery are all included in its kit box.
Pros
Air bleeder valve
Flexible and extra-long hose
20 V battery
Speed trigger to control the flow rate
Cons
Removing the coupler is tough
Factors to Consider Before Buying the Cordless and Electric Grease Guns
When buying a cordless and electric grease gun, you should study some factors. The following are some of them.
Batteries
Lithium-ion batteries are preferred for the smooth working of cordless electric grease guns. Ni-Cad batteries are also an excellent option to work with. But as time passes, the Ni-Cad battery speed reduces as its energy depletes. Lithium-ion batteries work three times longer than Ni-Cad batteries. In case of a low price situation, you can go with the Ni-Cad battery.
Psi
Your grease gun should have the power to penetrate the blockage. Dirt, old grease, concrete can clog your fittings. So make sure the gun you choose can break through the clogged fittings. The PSI range should be between 4500 to 10,000.
Output
The output of the grease gun should be of medium flow. It should not be at a breakneck pace as it will damage the seal. The slow pace of the grease will take time to clog through significant lube points.
Lube Meter
This feature is an essential factor to consider while buying a grease gun. The lube meter shows you the capacity of the grease you require, and thus, no grease is wasted.
Run Time
The gun you choose should have the capacity to deliver 2 to 20 cartridges per charge; otherwise, you will have to stop your work in between to work with the other battery.
Ergonomics
Gripping the electric grease gun should be good enough to work with. If you want to work for a long time duration, you need to see that the gun you choose should be lightweight and easy to handle.
Conclusion
Now, you have gone through the article, which lists various models of Best Cordless and Electric Grease Guns. As you were reading, you might have selected the best one for you. Also, take some precautions while using the grease gun.
Each gun has a manual inside on which you can find the various steps of operating the grease gun. Read it thoroughly before starting your electric gun and comment below the model you choose for yourself.