Hand Saws don't just make up the number in a typical toolbox. They are one of the most important, if not the most important work tools out there, based on their reputation as general-purpose work tools.
And while hand saws, in general, are known as any workman's favorite tools, it is undoubtedly true that most workmen prefer the electric hand saws to the other types of regular-sized, non-electric powered saws.
And this favoritism is not based on any form of prejudice against the other regular-sized, non-electric powered saws, but it is based on how effective and efficient the electric hand saw is when it comes to having control over and access to the materials/pieces that are being worked upon.
While the other categories of saws are sometimes static, laborious, slow, and challenging when it comes to getting jobs done, must especially DIY jobs, electric hand saws get the jobs done swiftly and effectively.
And this is no wonder why lots of workmen are in the search of the best electric hand saws that would make their jobs easier and less stressful.
Electric Hand Saws come in different brands and types (categorized mainly into continuous blades, reciprocating blades, and circular blades), hence purchasing the best for your jobs might not be a walk in the park without the proper buying guide.
Therefore, if you are a workman in need of the top best electric hand saw for your carpentry, remodeling, furniture, metalwork, and the rest here is a useful guide to help you in selecting the best electric hand saw of your choice.
Best Electric Hand Saws to Buy in 2023
1. Rockwell RK3440K Versacut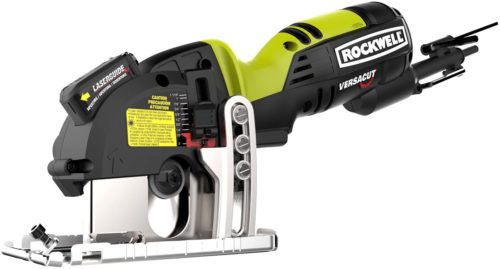 This product makes the top place on our list for so many reasons and features. First off, this Rockwell Rk3440K electric hand saw has been designed to last you for a very long time, hence its metallic inner and outer guard feature.
Also, its inbuilt laser guide feature that enables precise and accurate cutting is another reason this product is getting the attention.
Besides, this product is multifunctional in functionality, as it can cut through the following materials and more; flooring, metal, sheet, plastics, wood, and tile.
The Versacut feature enables accuracy, precision, and power in areas where other regular circular saws can't access.
To wrap it up, its dust extraction adapter enables good visibility and less dust distraction while you are working.
Key Features
It is a circular blade electric hand saw.
Features a lock switch system that helps to prevent accidents from happening when the product is not in use.
It is easy, safe, and stable to work with.
2.​​ WORK WX550L Electric Hand Saw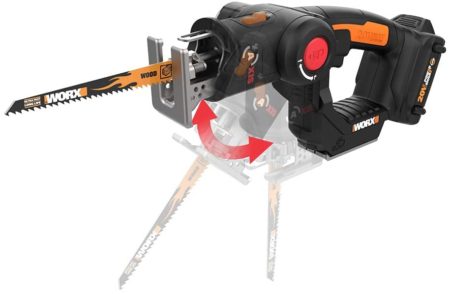 Another compact electric hand saw this product raises the functionality bar by adding tree limbs to its list of cut-able materials. And that is a feat, you know.
Besides, this product uses a high-quality Lithium 20v battery that you can easily insert and use in other work tools, hence saving you money for extra batteries for the other tools.
Also, its inbuilt blower feature enables you to work neatly devoid of debris and dust, a feature that aids visibility.
The best part of this product is its simultaneous jigsaw and reciprocating jaw features which enable it to do the job of a jigsaw and a reciprocating saw simultaneously, without you having to change blades.
And all these only at the turn of the head and the push of a button.
Key Features
Features a Lithium 20v battery (charger inclusive) that is compatible with other work tools.
Has a versatile axis that is compatible with any blade.
It features simultaneous jigsaw and reciprocating saw blades.
3. TackLife RES001 Electric Hand Saw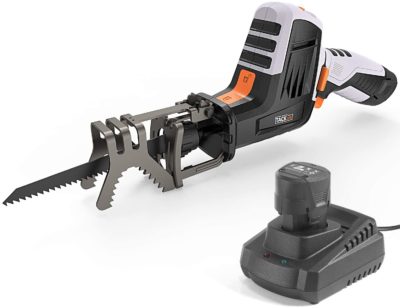 This product is a lightweight and compact electric hand saw, but that doesn't have anything to do with its features and functionality. This TackLife electric hand saw can cut the usual materials you know, in addition to PVC pipes and trees too.
Also, this product features a speed trigger that allows the user to control the speed of the product for better job output.
Besides, its Tool-free swift blade change feature is all you need to get jobs done fast without having to manually waste time changing blades as you work.
Not to forget its 1500mAh lithium-ion battery that fast charges in the space of one hour.
The icing on the cake for this product is its double safety switch that keeps the product from opening during usage.
Key Features
Features a carrying case for easy mobility.
It features a support lock button.
Has a tool-free blade change feature.
It features a battery indicator.
4. Black+Decker PHS550B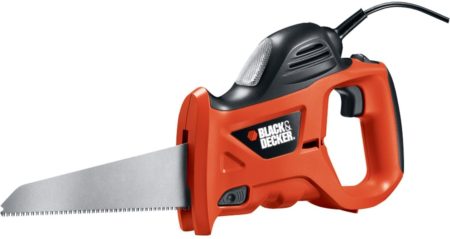 If you are in the market for an affordable, easy to use, easy to carry about, compact, and lightweight electric hand saw, then this is your best choice.
Besides, this Black+Decker product features a storage bag that can be used to store this product and its accessories.
Also, it features a 4600 SPM that enables the product to make controlled straight cuts in large materials.
To cap it all, this product features a free blade change setting/metal cutting blade that makes it ideal for a variety of cutting jobs.
Key Features
Can be used both outdoors/indoors.
It features a large capacity blade.
It comes with a 2-year warranty.
5. Chicago Electric 6 Amp Electric Hand Saw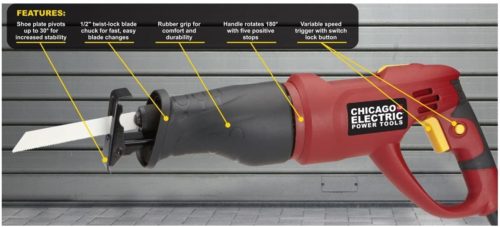 Coupled with the fact that this product is on the affordable side, and it does an amazing job, one stunning feature of this product is its 180 degrees handle feature which enables convenient cutting from any point and any angle.
Besides, this product has a variable speed control feature which enables the user to control the speed at which the saw works.
Also, its rubber grips and shoe plate pivot features make it durable and long-lasting.
Key Features
It works in five positions.
Features a switch lock button.
It features a shoe plate pivot.
6. GALAX PRO 20V Electric Hand Saw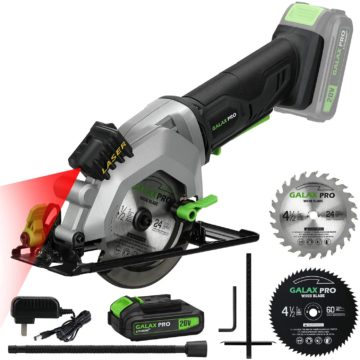 Disregarding the complicated look of this product, it is one of the simplest and easy to operate electric hand saws in the market.
Besides, it features a 3500 RPM that enables it to work at a very fast rate than other products.
Its dust extraction system and depth gauge lever features help to take care of debris and dust, and at the same time enable the user to make depth adjustments on the material you are working on.
The laser guide and bevel lever enable the user to locate the precise location to cut through.
Not to forget its beam guide and scale ruler features that help you with precision in cutting along straight lines effectively.
Key Features
It is durable and compact.
Comes with a 1.3Ah Li-ion battery and a charger.
Has a laser guide, beam guide, bevel lever, and a scale ruler.
7. SKILSAW SPT77WML-01 Electric Hand Saw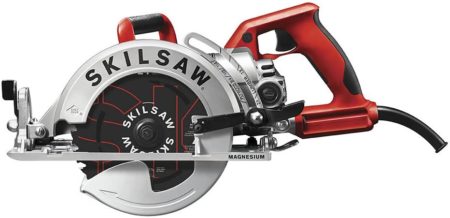 Although this product is a lightweight product that weighs a little above 11.5lbs, it makes up for that compactness with its functionality.
Made with magnesium material, this product is designed to stay cool irrespective of how tedious the job is. Also, the magnesium material enables it to stay sturdy and durable for a long time.
Besides, it features an anti-snag guard which helps to protect the blade when working on extremely thin and soft materials.
Its 15 amp power enables it to work fast and efficiently than most products. And its 53 degrees bevel feature enables you to make a wide variety of cuttings.
The best part is that this product works on any type of wood; either soft, hard, or complicated.
Key Features
It is magnesium-based.
Features a multi-function blade change wrench.
It cuts deep easily.
8. Dremel SM20-02 120-Volt Saw-Max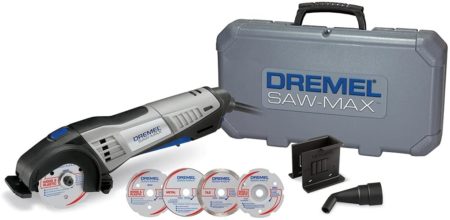 This one-handed electric hand saw enables you to make straight and wide cuttings across different materials which include wood, masonry, plastic, metal, tiles, and so on.
Besides, its plunge cutting feature enables the user to make direct and clear cuts into the center of material without pilot holes.
Also, its flush cutting feature enables you to make clean cuts around other materials.
And with its 17,000 RPM, 6 Amp motor, and 120V-60HZ voltage features, this product is designed to give a fast, steady, yet tough cutting on any job.
Key Features
Has adjustable depth control.
It features a dust port adapter.
Comes with a carry case.
It is one-handed and durable.
9. Makita XRJO6Z Electric Hand Saw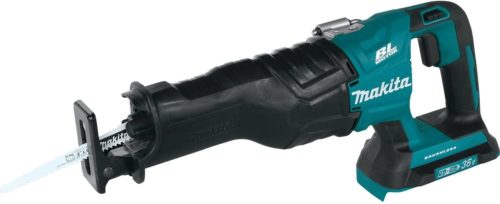 This is one of those electric hand saws that is worth every dime spent on it. Do you want to know why?
This product is one of the very few electric hand saw products that feature an XPT (Extreme Protection Technology) system. This XPT system is designed to make this product water and dust resistant.
Besides, its crank mechanism feature helps to keep the product's vibration and blade deflection to the barest minimum.
In the same vein, its BL Brushless motor feature helps to mitigate carbon brushes, and also help this product to work effectively for a long time.
Also, its tool-less blade change feature enables a swift removal and installation of the blade in the twinkle of an eye.
The best feature of this product, which is something that none of the products on this list has, is the LED light which enables the user to see what they are cutting clearly.
Key Features
It features a tool hook.
Features 2 18V LXT Lithium-ion batteries that charge fast.
Has a rubber grip that enhances comfort during handling.
It features LED lights for better visibility.
10. Genesis GCS545C Electric Hand Saw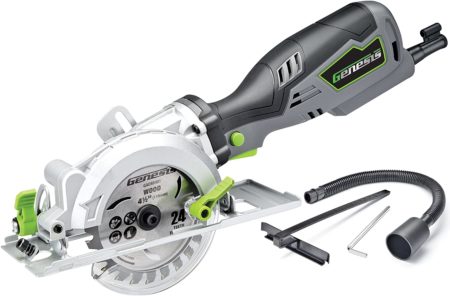 Another product that would give you a run for your money, this Genesis electric hand saw is fully packed with awesome and mind-blowing features.
One of which is its 3500 RPM and 5.8amp features that enable the product to work at a high speed across the toughest cutting jobs you can ever think of.
And with its Tungsten-carbide-tipped blade feature, this product can cut across 2X any type of material including copper, composites, aluminum, softwood, and hardwood.
Besides, it's 24T TCT and 60T HSS Saw Blade features enable it to cut tight spots and awkward angles of any material.
Key Features
It works at high speed.
Features a dust collection adapter.
It features an adjustable bevel and depth setting.
Comes with a 2-year warranty.
Purchasing an electric hand saw has just got easier, as this article has explicitly given a detailed guide to the 10 top best electric hand saws that you can choose from.
All you need do now is pen down your specs and budget, and narrow your search to that one that fits your budget and needs.