GoPro is the most popular brand in the camera world as they have cameras for both casual users as well as professionals of different niche. The diversity and versatility of the cameras have extended their applications among bikers, skaters, athletes and almost everyone you can think of. When you are investing so much money in a GoPro camera, you need to choose the quality accessories for it and the most common accessory is a selfie stick. You can even use some of these selfie sticks for underwater video and photo shoot as they are waterproof. The following are the top 10 best GoPro selfie sticks in 2019 that are tailor-made for GoPro cameras and absolutely value for money.
List of Top Best GoPro Selfie Sticks Reviews
10. Luxebell Selfie Stick Aluminum Waterproof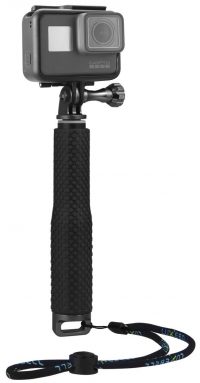 It is a pocket size GoPro selfie stick that extends from 7 inches to 19 inches. It is perfect for photos and videos and the same can be used for smartphones as well. This is a rubber non-slip grip and it is absolutely lightweight. It has a completely waterproof design with aluminum and there are twist and lock system. There is an adjustable wrist strap to prevent it from falling accidentally and you get 30-day money-back guarantee.
9. FloatPro Waterproof Monopod Selfie Stick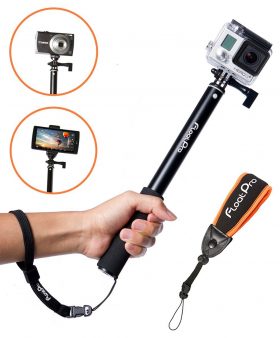 This is a great selfie stick that is fully made up of aluminum and it has a compact and rugged design. It is compatible with any GoPro Hero variants. This is waterproof and rustproof and it collapses up to 11 inches. It is the most suitable item to use underwater as it has a floating strap so that you can identify where the camera is in case you lose it. Furthermore, there is a detachable wrist strap and non-slip foam handle. You can extend it up to 36 inches along with easy twist and lock system and there is a tripod mount facility at the bottom of the pole. The product has a 1-year warranty.
8. Luxebell Selfie Stick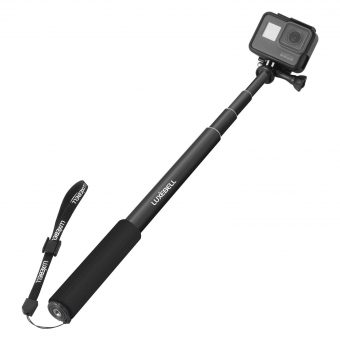 This is the cheapest GoPro selfie stick which an extension up to 40.5 inches. The least retraction is 12.2 inches. It is made up of hard anodized aluminum and it is very lightweight for kids to carry it effortlessly. The twist and lock system helps to adjust length and you can use your smartphone too with it. If you do not want to invest much in accessories, this is the ideal product for you to get the best out of your GoPro or other digital camera and camera smartphone.
7. LENDOO Bluetooth Selfie Stick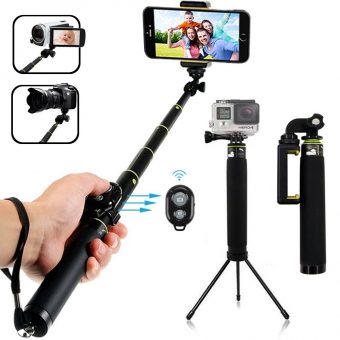 This is one of the cheapest selfie stick on the list that fits perfectly for all GoPro Hero. It is highly versatile as it can be used as a monopod as well as a tripod. There is Bluetooth remote control without any app requirement. It is applicable to all digital cameras and it supports Wi-Fi device. It is highly strong and durable due to magnesium material and has anti-skid property due to silicone clamp. There is an extra wrist strap for better security. It has 225 rotation and wide viewing angle. There are five sections for stretching and it extends from 7.3 to 31.5 inches. The universal screw is applicable to all kinds of cameras.
6. HSU Handheld Monopod Extension Pole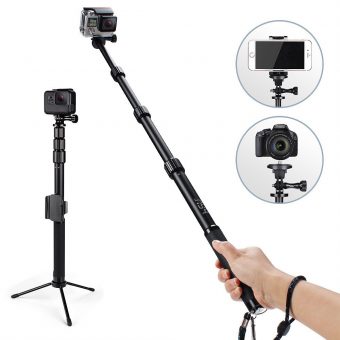 The selfie stick compatible with all the latest and older GoPro Hero variants. It extends from 15.6 inches to 44 inches. The product has silicone grip, waterproof construction for surfing, diving and skiing with it. It comes with tripod mount adapter, tripod, remote control clip, wrist strap for precaution and a pouch bag. The material is aluminum and it is highly stable. There are lifetime warranty and 30-day money back guarantee.
5. Professional 10-In-1 GoPro Monopod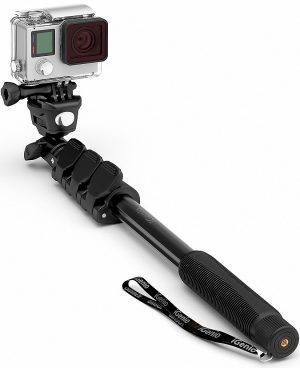 This is the most professional GoPro selfie stick you can buy as it has versatile usage that professional videographers will require. It is able to hold not only GoPro but also smartphones. The range of extension is 15 to 47 inches. There is no headache of any locking system and it is fully waterproof. You also get a nylon bag with shoulder strap to carry it and the product is very lightweight. It is compatible with GoPro Hero 2 to 5 variants and Omni VR 360. There are lifetime warranty and 30-day money-back guarantee.
4. Vicdozia Waterproof Selfie Stick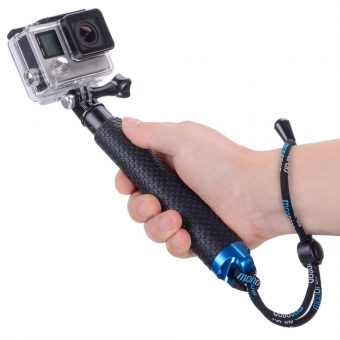 This is a small GoPro selfie stick that is perfect for caring in the pocket and it has a soft grip and rustproof and waterproof body. The handle is non-slippery and there is an adjustable wrist strap. It is very lightweight and it extends from 7.25 inches to 19 inches. This is mainly for taking selfies, groupies, and video shooting from a certain height. Moreover, applicable to all GoPro Hero series cameras and you can take it underwater to capture stunning photos and videos.
3. SANDMARC Pole – Compact Edition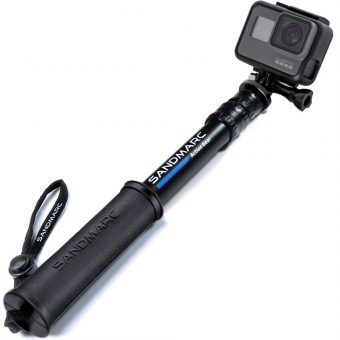 This is the bestselling GoPro selfie stick in the category of underwater photography lighting. It is extendable from 10 to 25 inches and weighs just 7 ounces and highly durable and extremely compact. It has all aluminum build and it is completely waterproof with rubber grip, plastic thumb screw, and aluminum tripod mount. The product has 100% lifetime guarantee and you can return the product in case you do not like it. It is tailor-made for underwater photo and videography. It is a must-have for surfers, skiers, divers and underwater explorer.
2. GoPro 3-Way Grip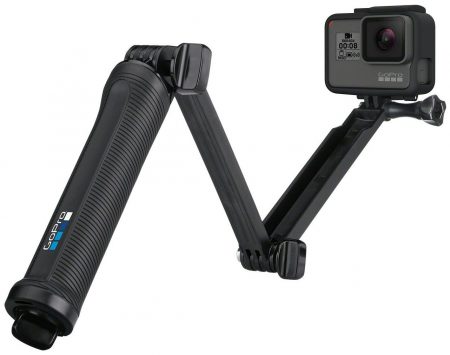 This is an official product from GoPro and it can be used as a selfie stick as well as a tripod thanks to its unique design. The handle is detachable in case you want to make it very lightweight. The grip is awesome and the mini tripod is stored inside the handle. It is completely waterproof and hence, it is one of the most versatile accessories for your GoPro camera. You can make it sit on the desk and shoot video which is instrumental for YouTubers. It is expandable up to 20 inches and collapses to 7.5 inches.
1. 

SANDMARC Pole – Black Edition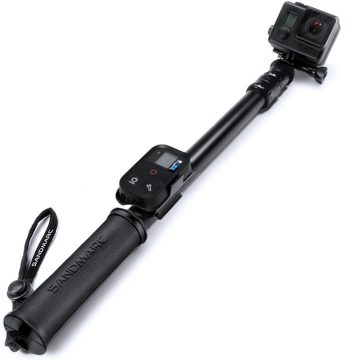 This is the bestselling GoPro selfie stick on the list and it has the highest average rating with huge sale figure. It extends from 17 inches to 40 inches. The build quality is great and it is made up of anodized aluminum. The product comes with an aluminum thumb screw and tripod. It has twist locking mechanism and it is fully waterproof. You also get a bonus nylon bag and adjustable shoulder strap. The company offers a lifetime guarantee on the product.
Go ahead and buy any of these top 10 best GoPro selfie sticks in 2019 so that you can utilize your GoPro camera to its maximum potential.