Make moving easier! And get yourself some of the best hand trucks available. Perhaps you want to shop online or take notes of the best brands of hand trucks for when you go shopping in person. This list is what you need.  After describing the hand trucks in detail, we go on to highlight the key features of these hand trucks.
Hand trucks are a first-class lever tool. It makes it easier to get your load moving. They are usually L-shaped. The longer side accommodates a handle so that you can push your load, while the load rests on the shorter length. And where the two different lengths meet, there are tires. Usually, hand trucks are two-wheeled. But if you're getting a special purpose hand truck, perhaps you won't be "too tired" since it could have as much as four tires. A good example is the stair climbing hand truck.
Talk is cheap, let's get you in on these amazing trucks. You can bet that they'll be begging for you to pick them up ASAP.  Here they are and in no particular order.
Best Hand Trucks to Buy in 2023
10. Cosco Shifter Heavy Duty Folding Hand Truck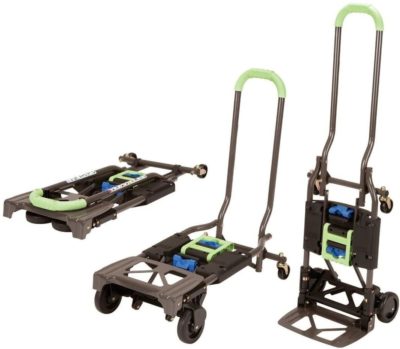 This one looks like it can rock the whole Sahara desert and still come out in one piece; It is heavy-duty. It can carry a load of  300lbs in weight. And it is made from a durable steel frame. Talk about shape-shifting; this Cosco truck can be converted without pins and tools. This ease of use makes the conversion quickly.
Now, the conversion is interesting; You can use the Cosco Shifter as a two-wheeled truck that stands upright or as a more balanced four-wheel cart. Still on the conversion, perhaps you need to store or move the truck itself when your cart is not in use, you can fold it flat. The truck will fit into most car trunks.
Key Features
The truck measures 49.25 inches in height, 16.625 inches in width, and it is 13.75 inches deep.
It weighs 14.92 pounds.
It is portable
9. Magliner GMK81UA4 Gemini Sr Convertible Hand Truck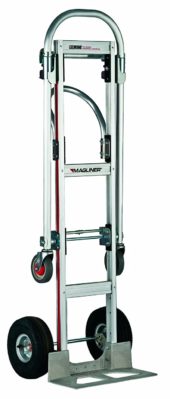 The Magliner GMK81UA4 is also convertible. Hence, if you need to carry more load all at once, the conversion allows the truck to accommodate more. And that's not all; it is lightweight but very strong and durable. The combined features; being lightweight and convertible helps you to avoid stress.   Since the truck is not heavy and can carry more load when converted, the truck driver is more productive. Another vital feature of this hand truck is that the wheels are pneumatic. It is common for hand truck wheels to be solid rubber tires on a metal hub.
Rather than being solid, pneumatic tires have the rubbers filled with air or foam. The truck is durable. In fact, it is manufactured using a modular design. This means that the whole truck can be assembled in pieces. It has an overall width of 21 inches and 12 inches of frame width. The height varies based on conversion. However, the entire length of the truck is 61 inches. It weighs  48.8 pounds and can carry up to 500lbs load, and even more when used as a platform truck taking up to 1000lbs of the load.
Key Features
It is convertible
Its high capacity reduces the high amount of trip
Lightweight but strong
8. Magna Cart Personal Aluminum Folding Hand Truck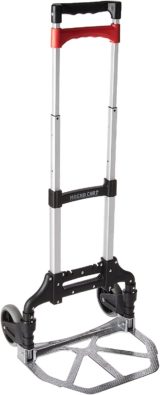 When you see the Magna Cart, you can almost tell that it is sturdy. With this hand truck, looks don't lie. The truck can hold up to 300lbs of the load. However, the feel can be deceiving, it is made mostly made of aluminum, and it is lightweight. You can fold the truck to keep or to transport wherever you want to take it. Perhaps you need it to move stuff somewhere else.
When it folds, it is just 2.5 inches thick; Hence, space won't pose much of a problem. Asides aluminum, the truck is made of other durable materials like steel and polypropylene. Unlike the Magliner GMK81UA4, the Magna Cart tires are solid and ball bearing, and it can be used on several surfaces; stone, carpet, or linoleum.
Key Features
Foldable wheels.
Durable Materials.
It has a Compact design.
7. Magliner HMK111AA1 Aluminum Hand Truck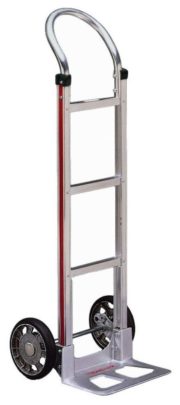 Another one from Magliner; this is a typical hand truck with an L-shape. There's no extra to expect from this line of Magliner's hand trucks. It is a simple design having two wheels for movement, and regardless of its simplicity, this truck will carry a load of 500lb easily. The truck is made up of aluminum, it is lighter than steel. It's simple design and material contributes to its lightweight of 22lbs. The HMK111AA1 truck is durable. It is resistant to corrosion. The 8 inches mold rubber tires move well on the streets and warehouse floors. The wheels have precision bearings to reduce friction.
Key Features
Straight back frame with a horizontal loop handle.
Super lightweight.
Compact Design.
6. Magliner HMK15AUAC Aluminum Hand Truck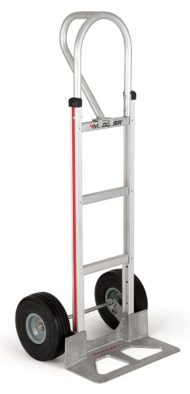 This is another simple hand truck from Magliner. But you can't get bored because they seem to have something different for every hand truck. So, the HMK15AUAC is also a straight back truck, but it differs from the Magliner HMK111AA1  with a vertical loop handle and tires filled with microcellular foam. Also, the wheels are slightly bigger at 10 inches. The truck possesses a die-cast aluminum plate for carriage. For easy movement and good load-bearing, the hand truck has semi-precision. bearings
Key Features
Its handle is vertically looped.
It has an aluminum die-cast nose plate.
10-inch Microcellular foam wheels.
5. Seville Classics Folding Hand Truck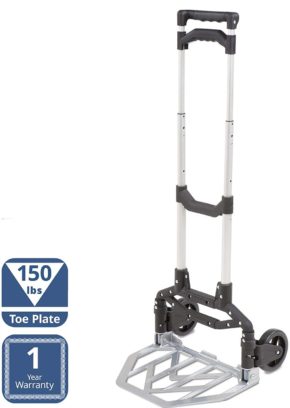 Seville classics do not make anything short of superior in terms of quality, design, and value. That's why this folding hand truck makes it to this list of the best hand trucks for this year; 2023. This isn't your typical heavy-duty rough rider, but the 150lbs recommended load is a big deal if you'll be using it at your store or home. It weighs just 6.85 pounds. You can use your feet to hold the plate down so that you can carry your load. This one has 5-inch rubber wheels to move your load around.
Key Features
It has a kick down toe plate.
Extendable handle.
It is compact.
4. Milwaukee 30019 800-Pound Capacity D-Handle Hand Truck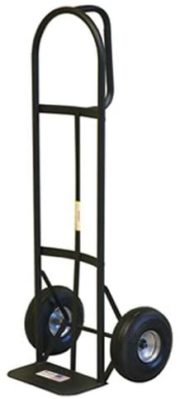 This Milwaukee Truck has a slender look which is quite deceitful since the truck is a heavy load-bearing type. The truck is capable of carrying up to 800 pounds of load. No wonder it has such thick tires. Its tires are 10 inches and pneumatic. You can carry your load easily using its flat 8 inch by 14-inch toe plate. It is made of metal and weighs 25 pounds.
Key Features
10-Inch Pneumatic Tires
Flow back handles
800lb Load capacity
3. FULLWATT Folding Hand Truck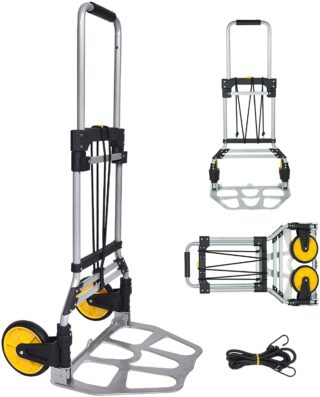 This full watt doesn't light up your room, but it could relieve you of carrying heavy loads around the home, in the office and anywhere else you might need assistance. But, mind you, the capacity is just 264 lb, so be realistic with your loading.  This hand truck is easy on the hands while you push. It has an aluminum plate and 7-inch tires but still collapses easily to optimize space.
Key Features
It is made of aluminum
It is a portable Folding Hand Cart
Has a 264 lb capacity.
2. Mount-It! Folding Hand Truck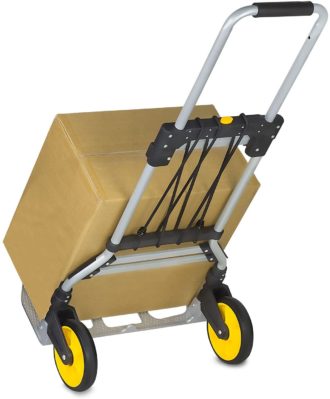 The Mount it Hand Truck is wide and sturdy. In comparison to most of the tracks on this list, this truck is lightweight. But its 264 load capacity makes it great for use in offices, homes, and light shopping. It is made of aluminum which ensures that rust and corrosion is not a problem. The truck features a bungee cord for holding load to the truck. The 7 inch thick tires and the sturdy aluminum plate are foldable. So, it can fit easily anywhere you would like to store it.
Key Features
Bungee Cable for securing the load
lightweight and anti-rust aluminum material
Telescoping Handle
1. Pack-N-Roll Portable Hand Truck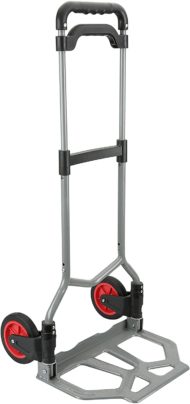 This is pack and roll indeed with its thick frames for handles so that the truck can withstand a high capacity load. However, it is only ideal for light use.  The truck is a lightweight truck of 6.8 pounds, but it can carry as much as 260lbs of the load. In addition, it has a 5.9-inch rubber tire that ensures you can roll away on almost any surface. The truck handle is lock and release; hence, you can compress it after which it stays in place. Also, you can extend it when you need to.
Key Features
17-inch x 11-inch Toe plate.
It is 2 inches thick when folded
It is made of steel
Now, making a choice on which hand truck you should consider buying must be easier. Meanwhile, it is important to consider the amount of load you intend to lift before making a final choice.