When you are in a hurry but still need your pool clean, these 10 Best Robotic Pool Cleaners in 2023 will come in handy. They remove complications that surround cleaning a pool. Physically clearing those twigs and dirt will ask for a lot of time and energy. Also, you cannot be sure of a completely cleansed water body. If you are looking for that 'Party-ready' pool that they show in the movies and Tv shows, then a Robotic Pool Cleaner is the best option you have. Depending upon the type of pool and your requirements, you can make the wise choice from this list.
Top Best Robotic Pool Cleaners Review:
10. Robotic Pool Cleaner – Cobalt NC22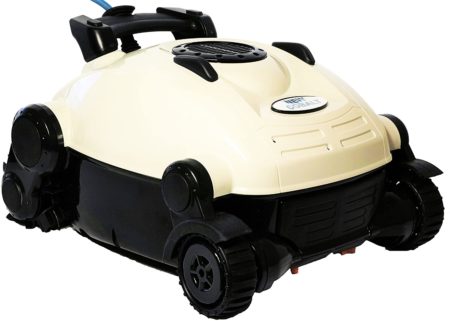 This cost-friendly solution for your pool problems is a huge plus for people in a budget limitation. It comes with a big bag that holds a considerable amount of dirt and debris while cleaning. So, you don't have to worry about frequent emptying. In case of small pools, this one is an ideal option. Unfortunately, it's not equipped to clean the dirt and molds that might form on the sides or the floor tiles.
Pros
A very good one-cycle cleaning for small pools
Cost friendly
Huge bag to hold the waste
Cons
Not suitable for cleaning big pools because of short chord
It cannot clean the floor tiles and the side walls.
9.  Hybrid Pool Rover – Aquabot Robotic Pool Cleaner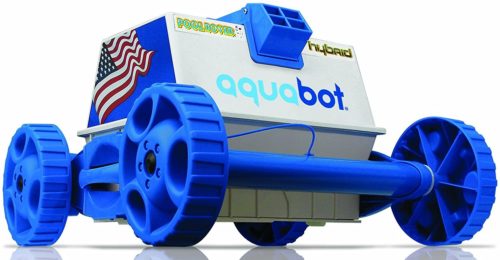 This pool cleaner is cheap and also has the ability to clean 5400 sq.ft in an hour. It has a jet-propelled system that can also clean the floors unlike the previous one listed on 10 Best Robotic Pool Cleaners in 2023 list. Compared to the concrete pools, this robotic cleaner works great with the vinyl ones. It has a 19-quart micro filter bag that helps to get rid of even small dirt particles. The cord is long enough to clean a small to medium-sized pool.
Pros
Cost friendly
Can clean even corners and floor
Great for use in vinyl pools
Long enough cord
Cons
It gets stuck in corners of concrete pools
Cord tangles very easily
8. Kreepy Krauly ABove Ground Robotic Pool Cleaner
This one is specifically designed for above ground pools but does a decent job with in-ground pools as well. It is good for those who are newly investing in the robotic pool cleaners. It is undoubtedly cheap, has easy cartridge access so that you can empty and clean it conveniently. The vacuuming and suction action is on point and quickly removes debris from the floor as well.  Its scrubbing brush has good speed and effectively cleans the above ground pools.
Pros
Good price
Has a high-end speed scrubbing brush
It is easy to empty the cartridge for cleaning
Works decently on in-ground pools too
Cons
Cords tend to get tangled often
Not too good at trapping fine particles
7. Automatic Robotic Pool Cleaner – Hayward RC9950GR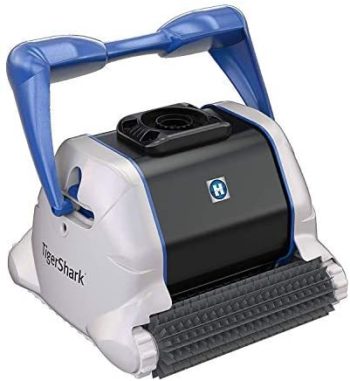 This Hayward variant finds its place in the list of 10 Best Robotic Pool Cleaners in 2023 because of its speed. Irrespective of the size of the pool, this is capable of cleaning them in a maximum time of 90 minutes. There is not much to get confused with when you are working on the installation. It's a one-button system that makes everything easier. Also, it has an easily cleanable cartridge to help you get rid of the waste.
Pros
Easy installation and use
It comes with an easily cleanable cartridge
90-minute maximum time of cleaning
Cons
Expensive compared to the others on the list
It is on the heavier end.
6. Hayward SHarkVac Automatic Robotic Pool cleaner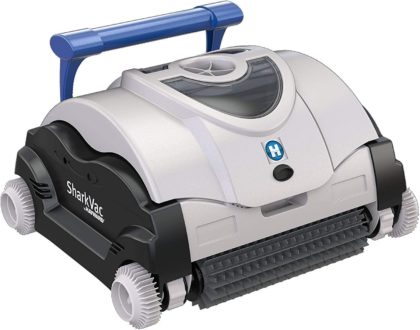 This one works wonders with debris that stuck at the coves of the pool as well. It comes with a smart steering system that takes the machine to the area where it is required. Think of it as a relief because you don't have to carefully monitor it all the time. It has a filter cartridge to trap the dirt and also added two smaller cartridges that you need to clean separately. There are no extra pumps or hooks to create an unwanted hassle. It is quite convenient to work with.
Pros
Can also clean stairs to the pool
It has a smart steering system
It comes with effective filter carriage bags
Has maximum energy efficiency
Cons
Not very great with the surface of sidewalls
Heavy
5. Aquabot White Wall climbing Robotic Pool Cleaner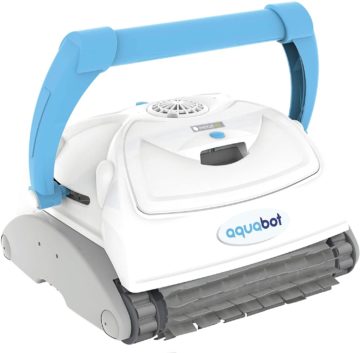 This is a good option for residential pools and won't increase your electricity bills because of the energy-saving capability. There is a vibrating brush at the bottom to facilitate the proper cleaning process. The tracks help it to easily climb the wall and get rid of the slime and debris that has accumulated there. Also, it has a really good filter cartridge that has 2 micron small pores – making it easier to trap really minute particles.
Pros
Long cable that doesn't tangle
Climbs and cleans the walls well
Has a great and aesthetic external design
Filters are commendable
Cons
Cannot trust the durability
A little costly
4. Aquabot Swivel & Caddy Ground Robotic Pool Cleaner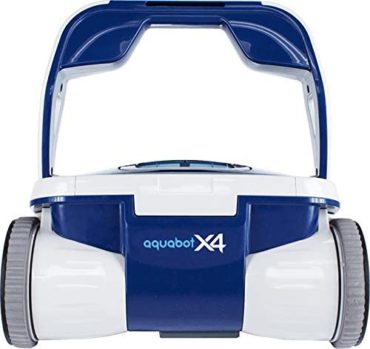 This is a very good cost-friendly solution for the ones who don't want to pour in thousands of dollars for their pool cleaning. The extra-large cartridge has enough space to hold a considerable amount of waste while cleaning. It has a nontangling swivel that is a necessity seeing how most of the ones on this list have a tangling cord. The pool mapping technology makes the cleaning even easier.
Pros
Extra-large cartridge that also allows easy emptying
Instant mapping of the pool
A proper 4 wheel drive
Comes with 3-year warranty
No tangling swivel
Cons
Not so efficient with 90-degree wall corners
3. Polaris In-ground  4 wheel Vacuum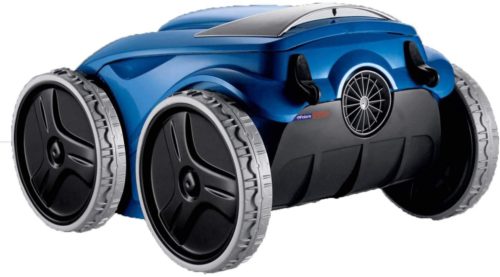 This is the best model that enters the top 3 of our 10 Best Robotic Pool Cleaners in 2023 list! Thanks to its design and great work efficiency. This one traps up to 4 times more debris when compared to other cleaners of equal cost and features in the market. It cleans the walls and floor of the pool and that too at a faster pace. It also has a waterline only mode that helps to clean the tough waterline areas that are ignored by other models.
Pros
Even works well on walls and floors
Efficient cleaning
Waterline only mode is effective
Collects almost 4 times more debris
7-day programmable cycle
Cons
Fine dirt is not caught easily by device
2. Dolphin Nautilus CC Robotic In-Ground Pool Cleaner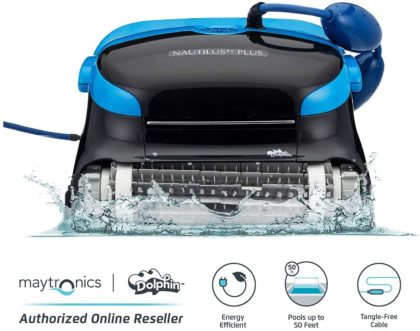 Dolphin is a leading brand that is known for launching devices that ensure proper pool cleaning. This one is tremendous because of its quick cleaning technology ( 120 minutes max) and also how it can work on a pool of 50 feet. It has dual scrubbing brushes that cover the entire surface area and also the easy to clean cartridges that keep unwanted hassle at bay
Pros
Comes with a warranty of 2 years
Great for the floor and walls
Easy to install and work with
Price is reasonable for the service
Cons
Multiple cycle requirement
1. Dolphin Premium Dual Scrubbing In-ground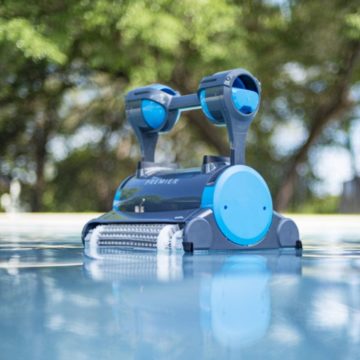 Now we are going to talk about the first spot on the 10 Best Robotic Pool Cleaners in 2023 list! You will be impressed with the way this cleaner not only clears dirt and debris from the floor but also climbs the walls and removes waste from there. It comes with a  huge cartridge and an additional leaf bag, cleaning accessories and a brilliant microfilter. Understanding and working with it is not a problem at all.
Pros
Many cleaning functions
Has a huge cartridge
Comes with cleaning accessories
Also enables wall and floor cleaning
Swivel doesn't tangle
Cons
It is expensive (but service is great)
Conclusion
Before searching for the right device on the 10 Best Robotic Pool Cleaners in 2023 list, you need to figure out the type of pool you have and the services you are expecting. Pools differ in size, dimensions, layouts and locations. So, you need to assess the level of cleaning needed and if your cleaner can serve the purpose. With that being said, I hope you will find your favorite from this list and keeping the pool clean won't be a problem anymore.