While you are at a beach or out on your camping or hiking trips, waterproof fanny packs can come in very handy. These carry-alls allow you to keep your essential accessories like phone, passport, keys and wallet safe. And they allow you to do so completely hands-free! Needless to say, they also need to be waterproof to protect your valuables from any damage due to rain or splashes.
Most importantly, they also create a fashion statement. In order to help you to find the perfect match, we are rounding up the best fanny packs in Amazon that will completely mesmerize you. So, keep reading to pick the ideal one.
Here is a list of Waterproof Fanny Packs in 2023
10. iKuShang Fanny Pack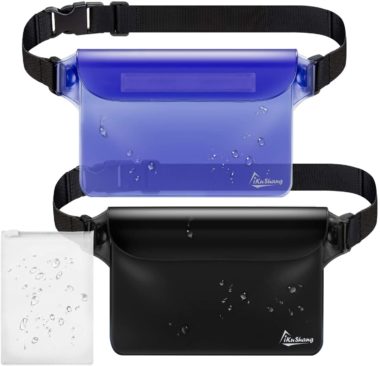 For your beach days, this fanny pack will really come in handy. The product can easily fit your phone or other essential items. With the transparent cover, you can see clearly inside the pouch. Not only that, but the product is also touch screen friendly, so you can even use your phone without taking it out.
You can have fun in the water without worrying about the pouch drowning in the water. It is designed to float on the water and so, your belongings will stay safe inside. One great feature of this product is that the waist strap on the product is adjustable, so you can choose your comfort level.
Key Features:
For the fashionista inside you, this product is available in a wide array of colors.
The product is completely waterproof, protecting any electronic devices you may be carrying on yourself.
It has a construction of PVC that will not get scratched so easily.
9. Day Tip Money Belt Fanny Pack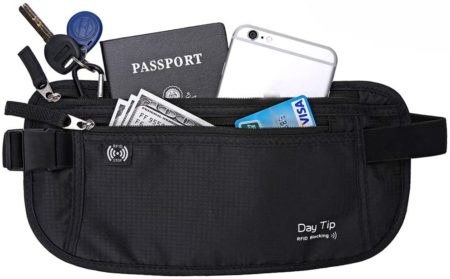 If you are looking for a fanny pack which can better suit for traveling, this will be a great choice. This spacious product is able to keep many small things organized with various compartments. Moreover, the product has zippers, which is much safer when traveling. A very interesting feature of this product is the RFID blocking function in the main pocket.
This prevents any scanner or RFID reader from taking your personal information. Besides, it has an elastic strap which is very stretchable. The product has 210D rip-stop nylon. This not only makes it waterproof but prevents easy tearing as well.
Key Features:
Since the buckle is facing the front, it is much easier to put on the pouch, than struggle at the back.
It has a special key holder inside the pouch which makes access much more convenient.
You can store passport, ids, credit card and so much more in this.
8. HEETA Waterproof Pouch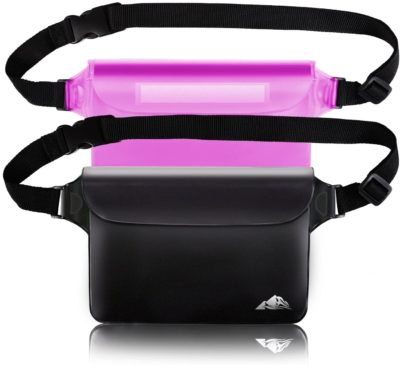 If you are looking for a Fanny Pack to accompany you to the sea, this product will meet your expectations. Available in so many bright colors, you will surely find something to suit your choice. Further, this has superior quality PVC as it's material. Therefore, the bag cannot even be scratched and remains as good as new.
On top of that, it comes with a strong Velcro over the top. If you are worried about your phone getting damaged with water, this product has the IPX8 lab-tested certification. Thus, it provides protection against water, dust and any other element.
Key Features:
The product is worn in many different ways, as a shoulder, or waist bag among others.
Since the product floats on water, you do not have to panic even if it falls out of the boat.
With 3 sturdy zipper locks, the product has the shield of 3 seal protection, to keep your valuables safe.
7. Frog Bagz Travel Fanny Pack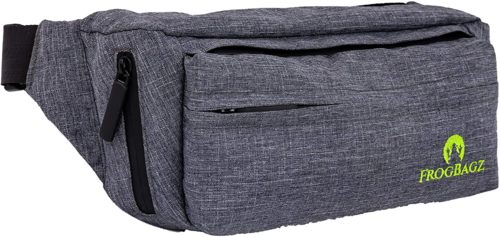 When travelling, a Fanny Pack should be your top priority. The product is loaded with features to keep your essentials protected. The outer layer of the Fanny Pack is water-resistant. So, you do not have to worry about any sudden downpour. Even the zippers of the product are completely waterproof, so no water can seep inside the pouch.
You do not have to worry about the bag losing its shape since it is made to resist any deformation. To make maintenance easier for you, the product is machine washable. As a bonus, it is completely recyclable. In order to prevent any theft, the product has premium quality pull away zippers, which remain hidden, and out of access for strangers.
Key Features:
The product has provided the thoughtful addition of a padded layer. This makes the product much more comfortable when carrying.
It has high-quality polyester as the outer material. This makes the pouch chemical resistant, as well as blocks any UV rays.
To give you company for the longest time, it is also abrasion-resistant.
6. Riptide Fanny Pack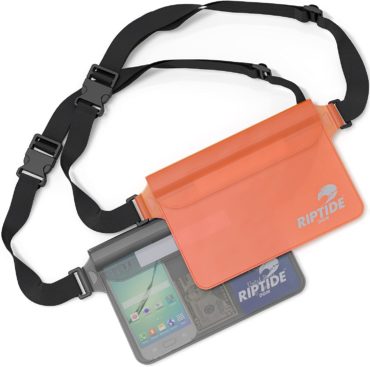 This product keeps practical needs in mind. To be able to fit any person snugly, the strap of the product is adjustable from 32 inches to 45 inches. Plus, the strap is really comfortable, so it does not irritate your skin. Besides, for a pocket pinch, two fanny packs are offered to you. Since the product has a strong Velcro closure, you do not have to be concerned about your things falling out of the pouch. Having polymer as the material, the product is really flexible, with a smooth surface, so dust cannot easily accumulate.
Key Features:
You do not need to take your phone out to use it. The opaque layer allows you full device control from within the pack.
It is also extremely lightweight, so you can wear it all day without feeling any bulk.
Having a functional design, you wear it for water sports as well as snorkeling.
5. YUNGHE Fanny Pack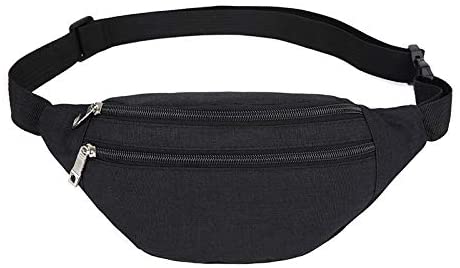 If quality is your main concern, go for this product without any second thoughts. The top quality material is really lightweight, so you can carry without any fatigue. Further, the material is water-resistant as well. So your electronics will be safe and secure inside the fanny pack. Having nylon rip-stop, you do not have to think about the durability either. This product can come in handy for many purposes. You can carry it for hiking, jogging, traveling, or even festivals, to keep your hands free.
Key Features:
With an extensive range of 23 different colors with various designs, you can surely find to go with your style.
With 3 separate compartments, you will have enough room to fit in every important item you are afraid of losing.
This comes with a canvas webbing belt. This is known for its long-lasting properties.
4. Oxpecker Waist Pack Bag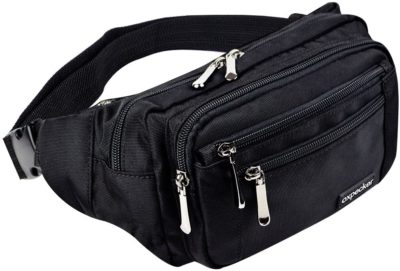 Oxpecker aims to provide you with the very best of what they can offer. The spacious product can easily fit even a 16oz bottle. It will give you long service with its abrasion-resistant material, coupled with strong stitching. Further, even the zippers have not been forgotten. Zinc alloy zippers with electroplated nickel zipper head adorn this bag. If that was not enough, this product also has a special rain cover in the interior layer. The buckle of the product has tough quality ABS plastic. This not only provides good sturdiness, but ABS is known for its durability.
Key Features:
To suit your convenience, the product can be worn in different ways, over your shoulder, or on the waist, or chest.
Its 1200D polyester construction will hold all the stuff with utmost precaution.
It even has zippered pocket for facilitating in extra storage.
3. DAITET Fanny Pack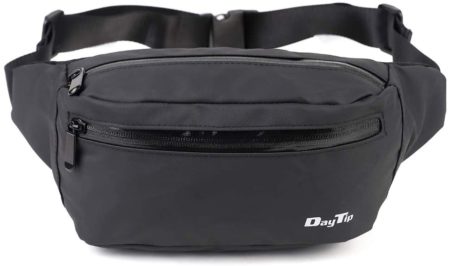 Satisfying various consumers, this product has rightfully owned the title of the bestseller of Amazon. Therefore, you can depend on the product for quality. With 29 different colors and designs, it can cater to the taste of everybody. The body uses premium quality 600D Oxford fabric cloth which lasts for a long time withstanding the usual wear and tear effects.​​ Moreover, this also uses mesh fabric. This makes the product really breathable as well. Lastly, it will adjust to your perfect fit, with the help of the adjustable strap on the belt.
Key Features:
With the help of the quick release buckle, it is really easy to put on of taking the fanny pack off.
To make sure all your items are secure inside the fanny pack, the product has heavy-duty zippers, which can glide effortlessly so the operation is hassle-free.
2. Aqua Quest AquaRoo Money Belt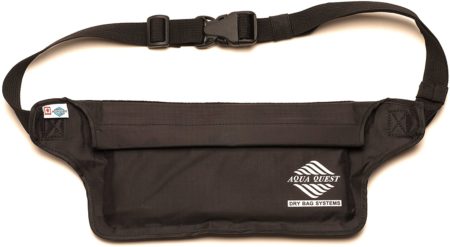 The product comes with various useful trinkets to make sure all your valuables have total security. The product offers a clear removable pouch. This pouch is waterproof, can be used to keep important documents like your passport. With the TPU lamination, you can remain tension free about the long life of the product. If you still have any doubts about the quality of the product, any such thoughts are driven away with the lifetime warranty.
Key Features:
The product has been intentionally given a wise thin profile. This helps you to wear it under the clothes to conceal better.
To make it even more durable, the product has welded seams along with dual70D rip-stop nylon.
The rear side of the product has a mesh layer. This makes the pack soft and breathable, so it sits comfortably on your body.
1. Freegrace Pouch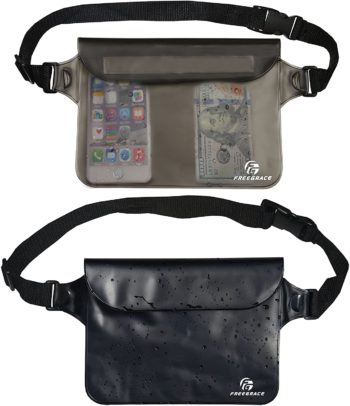 Whether you are on the beach, pool, or at a water park, this is a lifesaver. The fanny pack will protect your phone from any dirt, or snow, or water. Firstly, it promises to be absolutely waterproof. Besides, the product has enough room to easily fit a mini iPad as well. Since the product has a smooth polymer material, it will not get easily dirty either.​
Besides, being lightweight, this product is able to stay floating, so you do not have to worry even if you take it to the sea. The design of the three zip-lock seals effectively protects your things from water, even if it is completely submerged underwater.
Key Features:
A really useful feature of the product is that of a clear appearance. This allows you to use your phone inside the pouch.
The adjustable straps make them wear much more comfortable.
You can wear this out when going for water sports.
If the style is what you are concerned about when carrying a fanny pack, then this article is just for you. You will find something that will match your taste and then use it on a daily basis. So, now you do not have to leave the smallest things behind.