An electric tiller is an efficient tool for people who love gardening as it makes processing of land for planting easier than your imagination. Having this equipment will ensure that you no longer needed fork and spade for the planting process. However, judging the quality of this product among hundreds of options is never an easier task. A healthy portion of people fails to make an ideal choice.
With a motive to help the readers, we have created this list of top 10 best electric tillers in 2023. Our team has researched over 50 items and testing 17 units before finalizing this list. Let's check it out and choose one that suits you perfectly.
List of Best Electric Tillers Review
10. Black+ Decker LGC120 (best cordless tiller)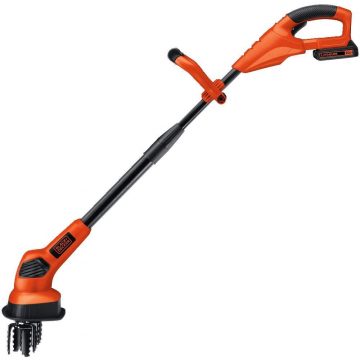 This model manufactured by Black + Decker is a perfect example of reliability and power. The LGC120 can handle all your outdoor as well as indoor jobs quite conveniently. It is a completely cordless tiller that can even perform the toughest jobs very easily.
You will succeed in professionally handling gardening jobs. It comes with a 20-volt lithium-ion battery that lasts for quite a solid time. Along with that, the price of this product is quite amazing that won't hit your pocket hard.
Pros:
Delivered with a two-year limited warranty
Pretty longer battery life
Available at an affordable price
Cons:
Incapable of breaking hard soil
9. AAVIX AGT307 Electric Tiller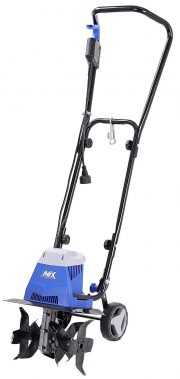 The ninth position in this list held by this magnificent tiller manufactured by AAVIX brand. It has a very solid build that allows the tiller to perform an operation on all kinds of soils. Furthermore, you won't complain about its structure and performance in any manner.
Equipped with a reliable electric motor having 10-amp power, this machine considered as one of the strongest tillers in the market. It is a corded electric tiller that can make your gardening fun.
Pros:
Equipped with smooth rolling wheels
Dual steel blades for better cutting
Extremely wide cutting path & depth
Cons:
Some issues on the hard ground
8. Sun Joe Garden TJ600E Tiller (best under $100)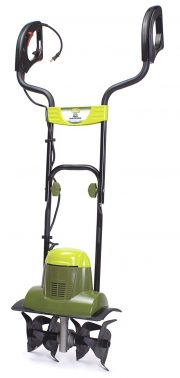 If you are looking for a super-cheap deal, then the Sun Joe Garden TJ600E can be a superb choice to make. It is available at an unimaginable price considering the tiller's four steel blades and 14-inch wide cultivation path.
There is a solid 6.5-amp motor added in this tiller that isn't bad when we see its price range. For minimizing the accidents, the company has added a safety switch and ergonomic handle. Additionally, its soft grip makes this product an ideal choice to make.
Pros:
Available at a budget-friendly price
Can be controlled and operated easily
Provide incredible safety
Cons:
7. Mantis 7920 (best for quicker weeding)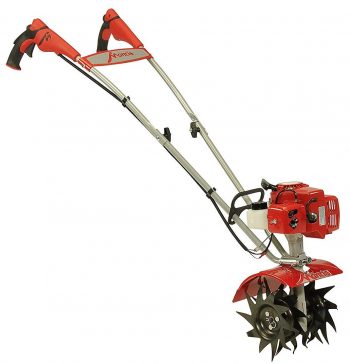 The buyers who demand a faster weeding can think about buying the Mantis 7920. There is a reliable power plug added on this equipment that let the machine perform brilliantly. On the other hand, it has a solid depth capability of 10 inches along with a cultivation width of 9 inches.
On top of that, this lightweight tiller has a quick speed up to 240 rotations/ minute. The availability of adjustable speed feature allows the users to perform machine in the way they want.
Pros:
Very easy to assembly
Equipped with both lower & upper handles
Ultra powerful machine
Cons:
Slightly expensive to buy
6. Earthwise TC70016 (excellent for casual users)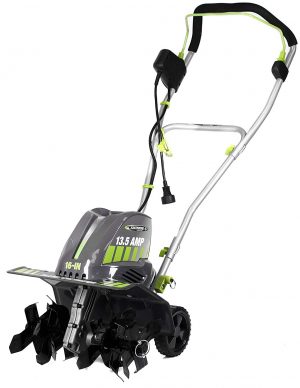 This equipment is an excellent combination of tiller and cultivator that you can buy for gardening casually. The Earthwise TC70016 is an adjustable device which an individual can use for both flowerbeds as well as backyard gardens. There is an ergonomic handle added in this equipment for making working easier.
Despite having tons of useful features, the company delivers this product at a very affordable price. In addition to the tiller, this machine can also be used as a weed control tool.
Pros:
Extremely comfortable to use
Equipped with solid steel tines
Very ergonomic grip
Cons:
A little bit difficult to assemble
5. VonHaus B01ANXFH10 (best lightweight electric tiller)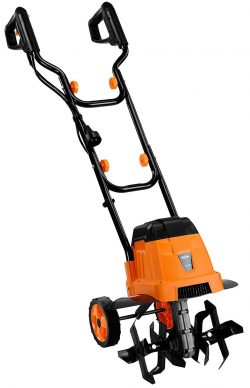 Known for its lightweight design and comfortable working, the VonHaus B01ANXFH10 is an ideal pick to make. It comes with a safety cut out protection switch that ensures no damage to the blade occurs. This Electric Tillers can dig up to 8.6 inches deep quite effortlessly.
There are two well-spaced handles added in this equipment that offer the required stability and maneuverability while working. The chances of damage to the surrounding area are almost impossible.
Pros:
Weigh quite low
Capable of delivering solid performance
Minimal damage to the blades
Cons:
Handle made from low-quality material
4. Greenworks 27072 (best under $150)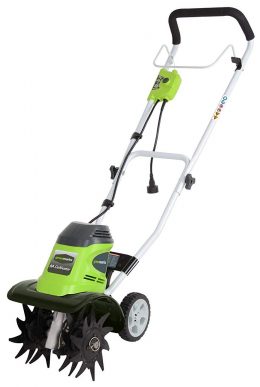 The Greenworks 27072 is an ideal answer for the buyers who want to pay an affordable price without sacrificing the performance. Its width can be adjusted from 8.25 inches to 10 inches that is nothing short than a blessing. On top of that, storing this product is very easy as it comes with foldable handles.
The availability of 8 amps motor makes it one of the best electric tillers to buy. You will become successful in hardening soil with minimal effort with this product.
Pros:
Equipped with four rotating tines for better functioning
Capable of working on hard grounds
Extremely lighter to carry
Cons:
Very unclear assembly instructions
3. Troy-Bilt TB154E (user-friendly operation)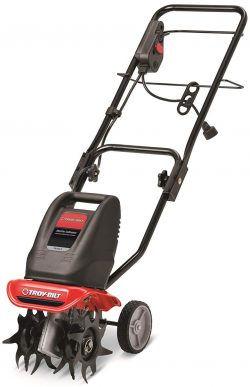 Many of our readers might be buying an electric tiller for the first time. We suggest them going for a user-friendly option like Troy-Bilt TB154E that has a very ergonomic construction and easy to control features.
It is a combo of cultivator and tiller that can revamp even an area that isn't touched before. You may find a few difficulties in hard soil due to an electric cord, but the results are worth to enjoy.
Pros:
Capable of digging, turn, and tear
Work using electricity
Extremely lighter to carry
Cons:
Can't work without electricity
2. Mantis 7250-00-03 (all-rounder pick)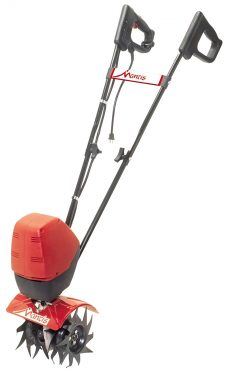 If you want to buy a product that can perform superbly well in all the departments, then this electric tiller can be bought. It has a very quiet operation that ensures no one gets disturbed. Furthermore, there is no need for any fuel to operate this unit.
You can use them on both soft as well as dense grass areas that make it an all-rounder product. Furthermore, its weight is only 21 pounds that allow the users to carry it easily.
Pros:
Extremely easy to use and carry
Equipped with a solid warranty
Better operation with fold-down handles
Cons:
1. Sun Joe TJ603E (editor's pick)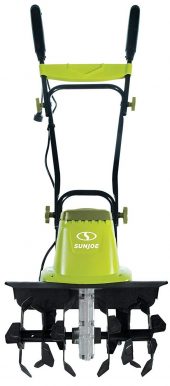 This incredible product equips with a solid 12-amp motor that allows it to cultivate a wider garden. It offers an enhanced level of durability and performance thanks to six high-grade steel angled tines. The company has added handle folds for making storage convenient and easier.
The length of its extension cord is 100 feet allowing you to move freely across the garden. ETL has approved this unit so you won't have to worry about its authenticity. Also, the operation becomes powerful with its three position wheel adjustment.
Pros:
Equipped with a powerful engine
Boost stability and maneuverability
Long length cord
Cons:
Minor complaints about its working in hard soil
How to pick the right electric tiller?
There are a plethora of things that you need to check for shopping an excellent electric tiller. We have mentioned about each of them in detail below:
Ease of use:
Always go for a tiller that you can use effortlessly without facing too many problems. It should be able to tackle the situations in which you want to use it. For instance, a lightweight option will be better for larger lawns. Also, the handles and wheels need to be comfortable to grab.
Blade:
Have a look at what type of material used by the company for manufacturing the product that you are shopping. Also, don't forget to check its configurations. The blades are an important part of the electric tiller, and that's why they should have sufficient power to complete the job.
Motor:
If someone calls it lifeline of the electric tiller, then no one will get surprised. There are many products available in the market with the low-quality motor. You need to stay away from such units as they won't complete the work on the ground at all. If the product you are buying doesn't serve the main purpose, then there is no benefit of buying it. Instead, opt for a unit that comes with a solid motor.
Budget:
As in the case of any other product, the budget plays an important role while buying an electric tiller. We have added products ranging between the price of US$ 100 and US$ 400. So, be smart and make your choice according to the requirement. Don't try to put extra pressure on your pocket.
Conclusion
Our team has presented some of the best electric tillers that you can see in the market. We suggest you be smart for your choice and go for the one that completely matches your needs. Investing a wrong product won't do any favors at all. If you have a query related to this unit, then please tell us in the comment section.