If you want to make your home outdoors look fabulous, there's nothing as amazing as giving a neat manicured appearance to your lawn. Lawn edging gives a definition and landscape to your house without costing you much. Lawn edging is such a labouring and intensive task, and this is the reason why people find it hard to maintain the edges of lawns.
However, with the right lawn edging tools, you can spend a great time cutting and edging your lawn. To make a clear separation between the driveways and grass, you will need a sharp and sturdy manual lawn edger.
If you have a smaller yard, a manual lawn edger will do the deed for you. It is a lawn maintenance tool that is used for trimming or cutting the weeds and grass in your lawn. For an edgy and clean appearance of lawns, these edgers are used. If you are willing to buy a good lawn edger, here are the 10 best manual lawn edgers to narrow down your search.
Here is a list of Manual Lawn Edgers in 2023
10. Radius Garden 22711 Root Slayer Edger

If you want to add more beauty to your lawn without spending much, this is a root slayer edger that you need to consider. This edge features a half-moon with inverted V-shaped cutting edge that has sharp teeth that easily rips through roots and dirt.
The edger consists of a powder-coated carbon steel blade, a shaft made using reinforced 13-gauge fibreglass and non-latex grips. The blade is of dimensions 10×6 inches while the tool is 52.5 inches long.
Pros
Clean and sharpened blade for best performance
Long shaft offers extra comfort for tall people
Ergonomically designed tool for fighting roots and dirt
Cons
Does not penetrate the ground completely
9. Truper 32100 Tru Tough Rotary Lawn Edger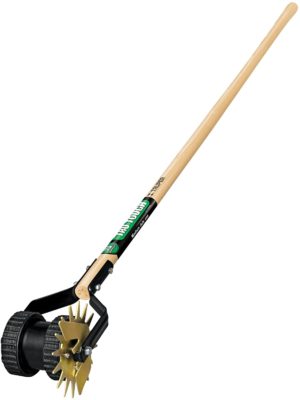 Prevent the invasive lawn grasses from entering your flower beds while using this tough and sturdy lawn edger. The edger features a dual wheel and an ash handle to keep the sidewalks clear of weeds and grass.
The edger features a 48-inches North American ash and a lacquered handle for durability and long lastingness. It also consists of clear-coated grey steel finished heads and is one of the best selling edgers.
Pros
Coat with silicone spray
48-inches long ash for better performance
Handy edger that keeps sidewalks clean and clear
Cons
Mud builds upon the wheel or roller.
8. AMES 2916000 Dual Wheel Rotary Edger

Compliment and contrast your home with the remainder of your landscape while using this fantastic edger. This is one of the best manual lawn edgers available online that features a 3-position shear blade for eliminating any type of clogging.
The edger features self-cleaning blades for ease of use and dual wheels for traction. The edger is loaded with a hardwood handle for strength and long-lasting use. It also has a cushion end grip for more control and added comfort.
Pros
Dual wheel rotary edger design to trim grass easily
Serrated blades that easily cuts through sod and grass with ease
3-position shear blade for eliminating clogging
Cons
The blades are not sturdy enough and bend easily.
7. Fiskars 38.5 Inch Long-handle Steel Edger

This tool will create a perfect divider between the lawn and other areas of your home. This is an ideal edger with long shaft and steel blades that easily slice through dense turf and grass.  Its large foot makes it easy for you to move the edger with force.
If you are a tall gardener or have trouble kneeling or bending, this steel edger will still work for you. The long shaft will extend to the ground, and you can edge the lawn easily. It also features a dual-handle design for added control.
Pros
A noiseless and sharp device
Large foot platform allows you to maximize cutting force
Steel blade with sharp edges for quick cutting
Cons
6. AMES 2917200 Saw-Tooth Border Edger with T-Grip

Enhance the overall landscape of your garden with this smartly designed edger. The edger easily creates clean borders around walkways and beds for a more clear landscaping look. It has an arched blade design for more control.
If you are concerned about the sturdiness of the edger, the handle is made of steel, and the handles are durable and super strong. It also has a unique footplate that adds consistent cutting depth for each session.
Pros
Comes with sharp serrated blades
T-grip for more comfort and cushioning
Smart footplate for consistent depth cutting
Cons
Not sharp enough to cut through sod
5. Radius Garden 206 PRO Ergonomic Stainless Steel Edger

Make your lawn the focal point of your house with this ergonomic, stainless steel edger. This fancy-looking edger is available at a great price and offers amazing value. It features a unique half-moon design that cuts through grass easily.
Unlike other edgers, this edger features an O handle for offering 4 times better grip and has enough room for both hands. It will prevent extra leverage on your hands and reduce stress.
Pros
Over moulded handle with non-latex thermoplastic grip
Stainless steel blade and resin encased carbon steel shaft
Half-moon design cuts the edges nicely
Cons
Has weak welding and thus breaks easily
4. Bully Tools 92251 Round Lawn Edger with Steel T-Style Handle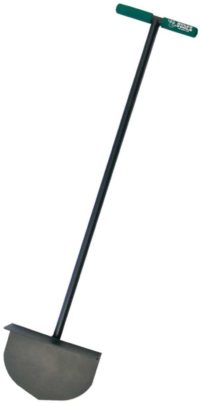 Stop weed from growing into your flower beds and use this round lawn edger with a steel T-style handle to enhance the glory of your garden. This edger is one of the best commercial-grade edgers and is made using steel.
The edger features an extra thick 12 gauge blade for better performance and a T style handle for better grip and comfort. The tool measures 38.37 inches and is a highly durable option.
Pros
Triple fibreglass reinforced handles
Extended length ferrules
Features an extra thick steel blade
Cons
3. Kenyon 49045 All-Steel Landscape Lighting Trencher/Edger

Nobody will be able to draw their attention from your lush lawn when you start using this lightning edger for landscaping your garden and lawn. The edger has a T handle and is made of durable steel.
Pros
A good tool for installing low-voltage lightning
Has a 45-inch steel handle
Sturdy and comfortable design
Cons
Not a durable product when it comes to heavily compacted soil
2. AMES Saw-Tooth Border Edger With T-Grip

This is an extraordinary manual lawn edger offered by AMES. It has a T-Grip handle made of steel, and an arched saw tooth blade for excellent grip and deep grass cutting.
This lawn edger is manufactured using solid steel and comes with a high-quality arched blade design to make your garden area, beds and walkways clean and well-defined within just a few minutes. It also features a T-shape grip hand to shape the lawn with comfort and control manually.
Pros
Gives a professional and clean look to your garden.
Comfortable to use and operate
Features a Steel handle for long term use
Cons
Takes a lot of body strength.
1. Truper Tough Rotary Lawn Edger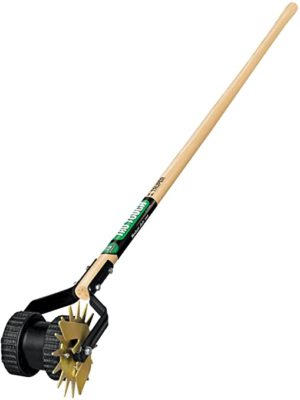 This is one of the bestselling old school lawn edgers. It comes with dual wheels and 48- Inch North American ash handles for easy operation.
If you are looking for a highly durable and strong lawn edge, then this one is just perfect for you. It is made of North American Ash and Lacquered handles which make this product even more powerful and tough. Nicely finished heads with clear coated grey steel.  It is easy to clean and maintain. Just wash it with the garden hose and coat with silicone spray for best use.
Pros
Features Dual Wheel and Ash Handle
Handy and easy to use and maintain.
Gives a sharp and clear sidewalks
Cons
Conclusion
Beautifully trimmed and shaped grass in the lawn creates a pleasing landscape and makes your yard look surreal. You can use the above-given edgers to create vibrant flower pots, trees, garden beds, and make your garden look appealing. The above given are the 10 best manual lawn edgers that will help you brush up your yard.