When it comes to compact action cameras, there is no alternative to GoPro. There are various models of GoPro Hero available in the market and they are equally popular. But having a GoPro camera won't ensure superior quality of video capturing. You will see that while walking, running, or doing various activities, the video captured are quite shaky and unbearable to watch. To get rid of this shakiness, you need a GoPro stabilizer. There are different sizes, shapes, and features of GoPro stabilizers available and we have listed the top 10 best GoPro stabilizers in 2023 that you must to capture shake-free video and share with anyone for appreciation.
List of Top Best GoPro Stabilizers Review
10. Hohem 3-Axis Stabilizer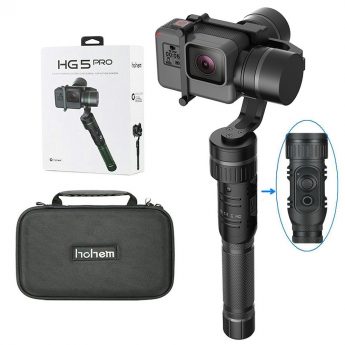 There are hotkeys available with the stabilizer to control the different parameters of the camera with touching the screen. The zooming and focusing can be precise with the handwheel and focus control. You can capture stunning photos and videos without shakiness.
You can also take time-lapse, hyper-lapse, and motion-lapse conveniently. The 3-axis design makes it suitable for 360-degree rotation. You can control the camera and gimbal with Hohem Gimset app. There is also a built-in charging option to extend the camera battery life. It is suitable for GoPro Hero 3 to 6.
9. Feiyu G5 Splash Proof Handheld Gimbal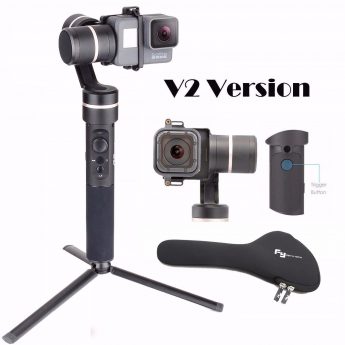 If you are planning to shoot video while enjoying water activities, this is a good choice of GoPro stabilizer. It is splash-proof and you can have complete control over its 40way movement. The hotkeys are extremely convenient for shooting photos and videos in different modes. It is controllable with Smart SY Setting app and apart from GoPro 3 to 6 models, it is suitable for various other cameras as well. It can be used as a mini tripod and the motor arm has industry-grade material and design.
8. Fantaseal Action Camera Hand Grip Mount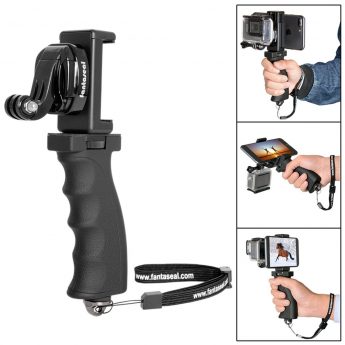 The design of the stabilizer is attractive and ergonomic. It is made up of high-strength ABS material and there are rubber plates for extra stability and protection. The grip is extra-stable and you can shoot videos for long without any uneasiness. You can attach GoPro action camera starting from Hero 6 to Hero 3. The design is portable and you can shoot indoor and outdoor conditions comfortably. The stabilizer can also be used as a mini-tripod as it stands hand-free.
7. CamKix Stabilizing Hand Grip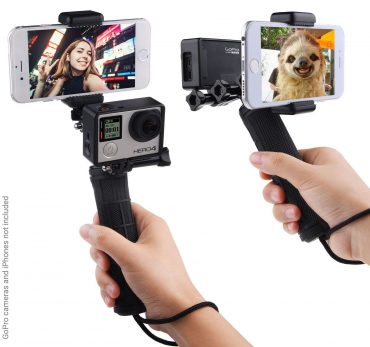 This is a highly versatile stabilizer that can be used as a hand grip stabilizer, dual mount, tripod, phone holder and much more. The dual mount option opens up the chance of mounting two cameras and recording at two different angles. You can control your GoPro with your smartphone with the GoPro app. The shots are always steady and you can use it as a selfie stick. The hand grip is extremely comfortable and there are many accessories compatible with it. You can buy a telescopic pole separately for wide angle shots.
6. Zhiyun Smooth Handheld Gimbal Stabilizer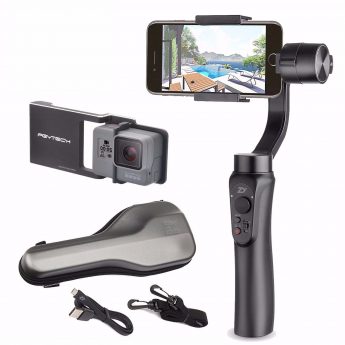 This stabilizer is going to work for GoPro Hero 3 to 6 and Xiaomi Yi action camera. The battery life is 12 hours per charge. There are robust controls available for zooming, clicking photos and shooting videos, changing cameras and modes. With the app provided, you can do auto-tracking, take time-lapse, and use various filters. You can also add an extra lens with various specifications. The product is sustainable in snowy weather and against water splashes.
5. Opteka Professional Action Stabilizing Handle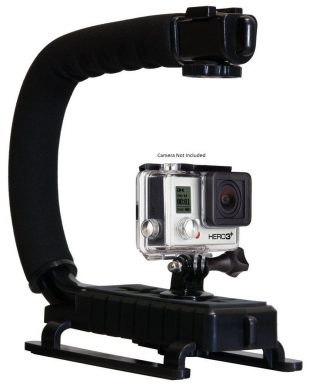 This stabilizer is quite compact in design and rather lightweight. Its ergonomic design will not put any stress on your wrist while filming lengthy videos at a stretch. The material used is ABS plastic and it is impact resistant. There is an extra shoe mount available for flashes, microphones, and other accessories. The non-slip rubber slips are available for safety along with a standard thread for the wrist. The company offers one year of warranty for the product.
4. Fantaseal 4-in-1 Camera Stabilizer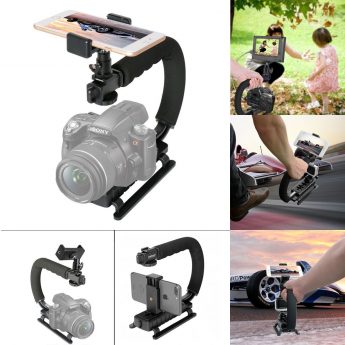 The product features under Amazon's Choice in the GoPro stabilizer category. It is suitable for all DSLR cameras, action cameras, and even smartphone. The stabilizer is known for its extremely low angle video shooting ability. You can control your GoPro camera with the GoPro app from your smartphone. It can be used as a tripod and the stability of the videos is of the next level. It is lightweight, shockproof, and you can do any type of activity with it. The grip is soft and secure and there is a holder for attaching smartphones or an extra camera.
3. GoPro 3-Way Grip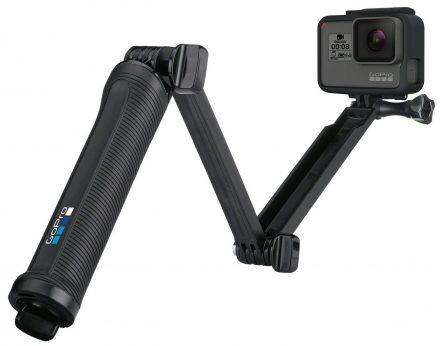 What could be better than using an official GoPro stabilizer for its cameras? This is also the bestseller in the camera mount and clamps category. The design of the stabilizer is extremely flexible and you can be used as a camera grip, tripod, and as an extension arm. The shots will be versatile and the viewers will enjoy it. The handle has double grip and the handle is detachable. The product is waterproof and collapsible for easy storage. You can shoot your sports activities with it in the water.
2. ROXANT Video Camera Stabilizer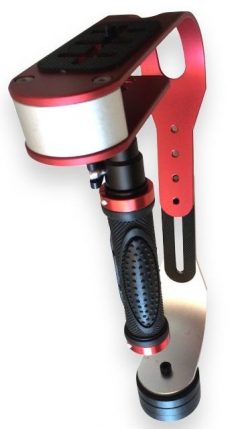 This is one of the bestselling and best-rated GoPro stabilizers with superior construction. The stabilization is of the professional standard and you can shoot shake-free video comfortably. The lower arm has non-slip grip and you can use it for hours without straining your wrist. There are counterweights available for further stability and it is considered to be an idle stabilizer for GoPro owners who are into indie filmmaking.
1. ROXANT PRO Video Camera Stabilizer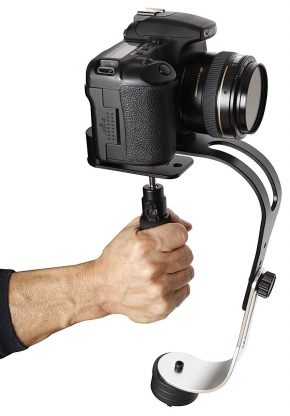 This is undoubtedly the sturdiest stabilizer you will ever find. The design is unique and that is why the stability is unmatched. Apart from GoPro, it supports Canon, Nikon, and other action cameras. It is a limited edition stabilizer and you can make movies with your GoPro camera. It is extremely comfortable to hold for longs. There won't be any fatigue build up and you can shoot videos while walking, running, performing various activities without worrying about shakiness. The product is definitely a perfect worth for money stabilizer.
Conclusion
While buying a GoPro stabilizer, watch out for the model of GoPro camera that the stabilizer is supporting. There are different features and functionalities offered by the stabilizer other than just stopping the shakiness. Therefore, you need to go through the description of the top 10 best GoPro stabilizers in 2023 carefully. Choose the one that offers more value for your money and satisfies all your requirements aptly.