Your garage needs a dedicated space where you can carry out all the complicated work. The workshops must not only have unlimited space but also sufficient lighting. For doing all the amazing works, the LED garage lights are the product you need. Providing powerful lighting, you can adjust the setting accordingly. It will not get heated and will even distribute the light properly. However, you do not have to worry about the bills as it is energy-saving. A bright and amazing addition to your garage, the light will even reach the darkest spot.
As the market is open to a lot of choices, we are here to figure out what's best for you. So, here is your list of best LED garage lights that will look great and provide efficient results.
List of Best LED Garage Lights
10. Tanbaby Garage Lights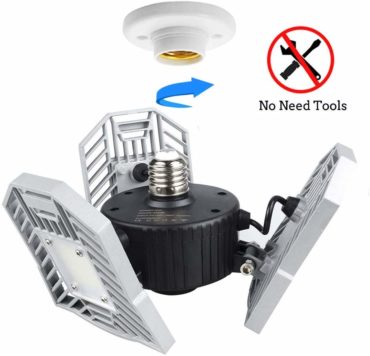 Tanbaby has created a line of amazing lights, and this one will certainly not disappoint you. Having a total of 6000 lumens brightness to illuminate the area, you can say goodbye to any dark areas. In case you cannot handle tools really well, no worries. These garage lights need no tools. Moreover, this garage light will work just fine with any standard light socket of E26 or E27. If you still have any doubts about the quality, the lights are certified by both ETL as well as UL.
Next, having a humanized design of die-cast aluminum, you can make adjustments to the design as required. Finally, it is fully resistant to the high temperature and an advanced cooling system will help in quick cooling. In fact, this is situated right under the lamp beads.
Key Features: 
The product is able to efficiently save 85% more energy than the usual bulbs out there.
With the amazing heat dissipation system, you do not have to worry about the light getting overheated easily.
The lights have a long lifespan. It can work endlessly for 50,000 hours without any trouble.
9. Sunco  Garage Lighting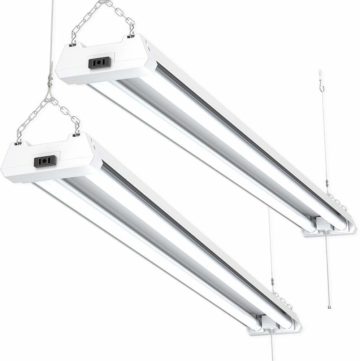 Whether you want to directly mount the product, or want to suspend it through a chain, Sunco allows you complete flexibility to do either. Further, to make the use more convenient, the product comes with a pull chain. Because of the beam angle of 120°, the light is spread evenly and to a wider area.
With your purchase, you can feel a little more responsible as scarcely any chemicals are used for the product. Besides, Sunco donates for a greener world. The performance and safety of this product have been certified by Energy Star.
Key Features:
To suit your preference, the light is available in two colors of cool white and daylight.
It has an instant-on function with absolutely no delay.
Since the cord is a good 60 inches long, you will not have any distance constraint with the product.
8. JMTGNSEP Garage Lights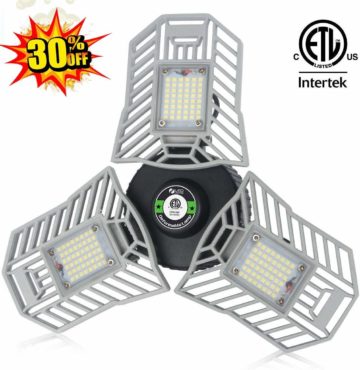 This premium quality product has been designed with a lot of thought. Thus, even if you have a space crunch, this compact product will easily fit into small spaces. The product has exceptional temperature resistance. Therefore, it will last you with a good performance of 50,000 hours. Yet, this product hardly needs any maintenance.
With the energy-saving chip, it will provide you with impressive brightness. However, save a good 85% of energy compared to the traditional bulbs usually used. Since the common fluorescent fixtures are replaced conveniently, this product is used for various places.
Key Features: 
The garage lights sport the unique feature of an adjustable angle. This helps to illuminate any place, in any situation.
With the help of aluminum alloy panels, the cooling efficiency of the product is greatly enhanced.
Requiring no tools, installing this product saves a lot of your time and energy.
7. OOOLED LED Shop Light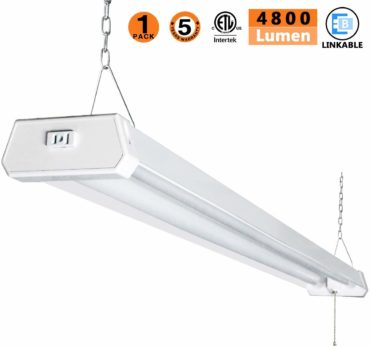 If you are worried about the safety, or the optimal performance of the lights, go for this without any doubts. The product has been certified by ETL as well as LM80. Also, this product is interconnected with as many as 10 lights. On top of that, the 5ft cord will help you reach anywhere, and install in your desired position.
Whether you want a hanging mounting or a flashing mounting, this is mounted any way you want. Besides, these 43W lights are really energy efficient to reduce your electricity bill. Above all, the natural-looking white light has a temperature of 5000k that is enough to light up the area.
Key Features: 
You can take comfort in the fact that the product is free of any Mercury. Thus, it has no UV either.
The product features a frosted PC cover that just changes the look of the light.
Spectacular, high reflectance aluminum is used for this product. It provides you with an excellent 95% reflectivity.
6. MOFUT LED Garage Lights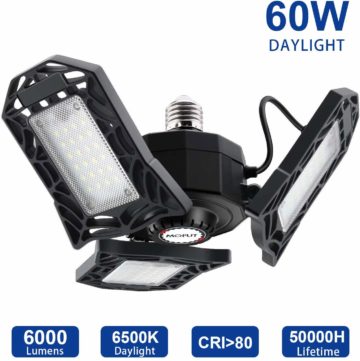 Requiring no tools, you can easily install these garage lights within a matter of moments. Besides, the product has cast aluminum heatsink heads. These make sure that there is strong heat dissipation, and the lights remain cool as a cucumber. Further, it makes the product corrosion resistant as well.
However, the product has a stainless steel braided cable. Being stainless steel, you do not have to worry about any rusting either. In case you are not great with lights, the product comes with a helpful user manual. This walks you through each step of the easy installation as it also acquaints you with all the functions.
Key Features:
It has a deformable design. This means the garage lights have the flexibility to be bent to a 90° to focus the light wherever you need it.
You do not have to tolerate flickering lights anymore. This has a non-flicker design, to enjoy continuous illumination.
When you are using this, you can expect a service life of 50,000-hours.
5. Mopzlink LED Garage Lights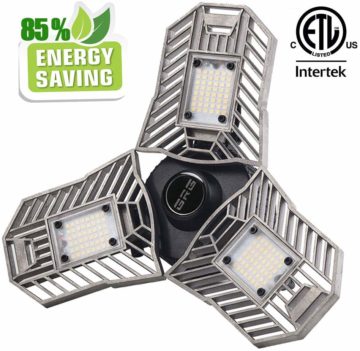 If you want to ensure safety, these garage lights will be a great choice. The product has a premium quality alloy housing. Besides, these lights have a really wide application. From garages to the workspace, it can suit any setting. Thankfully, you do not have to be concerned about compatibility either. These garage lights can fit into any standard E26 socket with ease.
Besides, the aluminum cast also accelerates the heat dissipation. With the adjustable 90 degrees freedom, you will be able to concentrate the light on every dark corner with ease.
Key Features: 
With 50000 hours of service life, you will not need to worry about any replacement of bulbs for a long time.
Even though the light is really bright, it is not at all harsh on your eyes. The lights are designed to be eye-friendly.
All the incandescent bulbs are of 400-watts that are pretty powerful.
4. ACI LED Garage Lights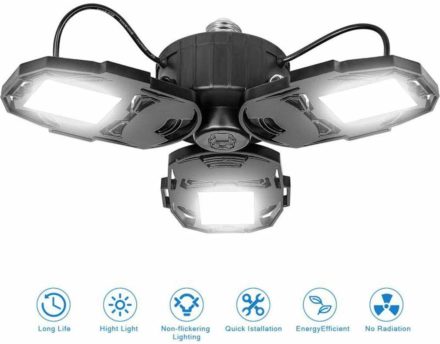 One great thing about this product is that you do not need professional help to install this product. The LED panel is easily changed just by hands. Furthermore, these lights are vision friendly, so they do not harm your eyes. With a massive 8000 lumens, you can be sure of the illuminating area without any trace of darkness. It promises to be four times brighter than the traditional bulbs out there.
Besides, if you have any reservations about the quality of the product, ACI provides you with a lifetime warranty. Thus driving any doubts away. These 80W bulbs are super bright and promise a running time of 50,000 hours.
Key Features: 
With this product, you do not have to dread any radiation.
The durable aluminum holder is adjustable.
Having aeronautical material for the product, the product is lightweight as well as long-lasting.
3. LZHOME LED Garage Lights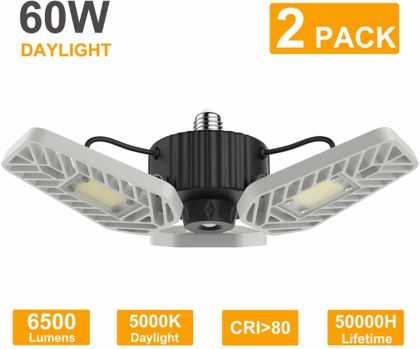 Not only are these lights bright, but they are really high quality as well. The room looks much better since the lights have a CRI above 80. Next, to suit both day and night, these garage lights have a color temperature of 5000K. Since the lights only consume 60w, the product is not only energy-efficient but will save loads in your electricity bill. Besides, if you are not great with new products, LZHOME has got you covered.
With a useful instruction manual, you will be accustomed to everything there is to know from installation to functions. Since the product does not need any tools, you can use it right out of the box.
Key Features: 
With the non-slip design of the garage lights, you do have to fear any sudden accidents that may otherwise occur.
As an added trinket, the product provides you with a bonus of 2 lamp holders along with the garage lights.
It offers 3 ultra-bright LED heads that you can certainly adjust to suit your needs.
2. Zitrades LED Garage Lights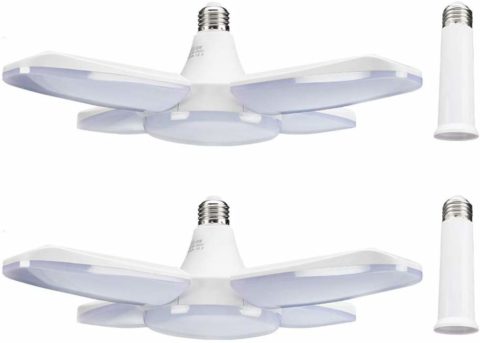 This product has a very unique design, which does not only have great functionality but looks great in your garage. The product allows the flexibility to change the angle of the lights arbitrarily. If that is not enough for you, this product also comes with useful lamp holders for the E26 socket. With the special heat dissipation system, the product remains cool and provides you with extended service life.
As a matter of fact, to add more to the durability, the product has great temperature resistance, and it is corrosion resistant also. Providing 4 lights together, this innovative design is able to cover a much wider area to keep the space lit.
Key Features: 
The product has the certification from FCC assuring you of its superior quality.
You will not have any issues with flickering with these garage lights.
1. Amiluo Life Garage Light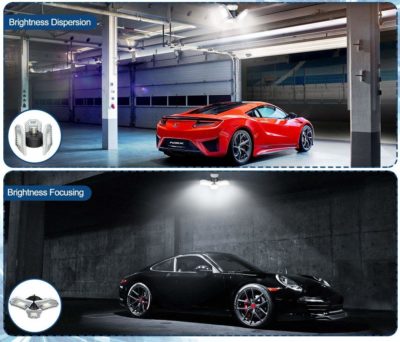 These garage lights have been designed with great care. The aluminum alloy material makes the lights resistant to high temperatures. On top of that, because of the hollow structure, the product provides better cooling. Inevitably, it has a maximum performance span of 50 thousand hours. Further, with the CE certificate, you can rely on these lights for guaranteed illumination.
If that is not impressive enough, the product boasts CRI85. Thus, this will not affect your eyes in any harmful way and has a vision friendly color for comfortable viewing.
Key Features: 
You do not have to worry about any harmful components in your garage lights. They are free from any UV, IR, or toxic mercury or lead.
This is ideal in both indoor and protected outdoor fixtures without any problem.
With deformable lights, parking will be a breeze, with the absence of any blind spots.
Do your work with extreme precision. You can check the condition of every part of the car and fix it once you have a powerful garage light. Monitor the process and continue your garage work with utmost precision.